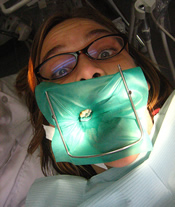 Julie emails:
I'm one of many people in this area who don't have dental insurance and i just paid $221 for my 6 month cleaning and bitewing xrays. My previous dentist, who recently retired, was significantly less expensive, so I'm wondering if any of your readers know of a dentist in this area who isn't quite so expensive and isn't retiring soon?
Or do I need to just start saving now for my next cleaning in 6 months?
Julie's in the Saratoga area, so she's interested in dentists there. We'll also open this up to (good/affordable/combo of both) dentists around the Capital Region (we've had a few people ask this question).
So, know of good dentist? Please share?
Earlier on AOA: Ask AOA: A good oral surgeon?
photo: Flickr user Betsssssy
Hi there. Comments have been closed for this item. Still have something to say? Contact us.