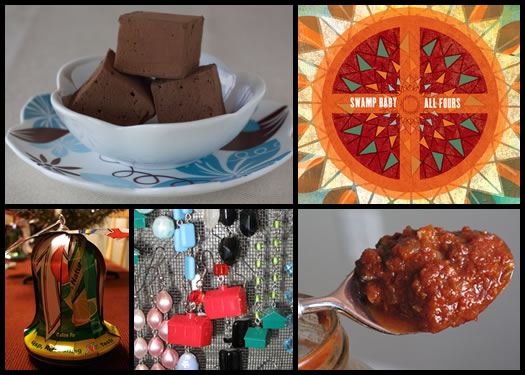 By Jessica Pasko
The AOA elves are back to help you with your holiday shopping. We'll be bringing you fun, interesting, local gift ideas for the holiday season.
On this final day of gift ideas, I bring you the stocking stuffers. Most of these would also make great gifts for those people for whom you need just a little something.
Dream Puff Marshmallows
What could be better than a warm mug of hot cocoa on a cold day? One garnished with one of Ginny O'Neill's DP Marshmallows! Special holiday flavors include gingerbread and peppermint candy cane. Yum!
What is it: Gourmet marshmallows
How much is it: $4 for a pack of six large marshmallows
Where to buy it: The Troy Farmers' Market or contact Dream Puff Marshmallows directly.
Larry's Southwestern Sauces
Larry Sombke makes some excellent spicy sauces that went over great with my own dad last year. I'm personally a fan of the chipotle -- there's also ranchero and mole varieties. The sauces are great way to add flavor to a meal without much effort.
What is it: Sauces made by local garden expert extraordinaire, Larry Sombke.
Where to buy: Delmar Marketplace, Putnam Market, and the Honest Weigh Food Coop, among others.
Our Daily Nuts
Caroline and Paul Barrett make their roasted nut mixes right in Delmar under the name Our Daily Eats. Flavors include Mexican cocoa almonds, rosemary maple mix, and sweet maple sea salt pecans. They definitely make for a tasty yet healthy treat.
What is it: Maple-roasted nut mixes from Our Daily Eats
How much is it: It varies depending on flavor, but in general the nuts are around $4 for a 3.5 or 4 ounce bag.
Where to get it: Delmar Marketplace, Honest Weight Food Coop, It's Only Natural, and Putnam Market, among others.
Earrings from Elissa Halloran
There are some great pairs of earrings to be found on Elissa's $10 rack, most made with vintage beads. There are some lovely pearly ones, although I also got a big kick out of the ones made from Monopoly pieces.
What is it: colorful handmade earrings
How much: $10
Where to buy: Elissa Halloran, 229 Lark Street, Albany.
I <3 Lark buttons
Laura Glazer's little Albany buttons are just the cutest. I especially liked the one that said "I miss Shades of Green," because, well, who doesn't?
What is it: Cute little buttons featuring Albany-related slogans like "I left my heart on Lark."
How much: $2 each or three for $5.
Where to buy: Elissa Halloran, 229 Lark Street, Albany.
Local Music
Local music label Collar City Records is having an awesome sale until Dec. 31 -- all albums in the online store are just $5 and shipping costs have been decreased too. I'm especially a fan of the Mount Mole EP, and Swamp Baby's stuff.
What is it: Local music from Collar City Records
How much is it: $5 an album
Where to buy: Collar City Records online store
Soda can ornaments
I think these soda can ornaments from Altamont resident Corinna Goutos are the cutest thing, and they're only $4 each. I think they'd be adorable on any tree. Also, Corinna's a 19-year-old college student, so it's nice to be able to support her.
What is it: Christmas ornaments made from old soda and beer cans.
How much is it: $4 a piece
Where to get it: Order from Corinna directly and she'll get it to you fast. She also sells jewelry made from various recycled materials on Etsy.
Elissa Halloran advertises on AOA.

Hi there. Comments have been closed for this item. Still have something to say? Contact us.