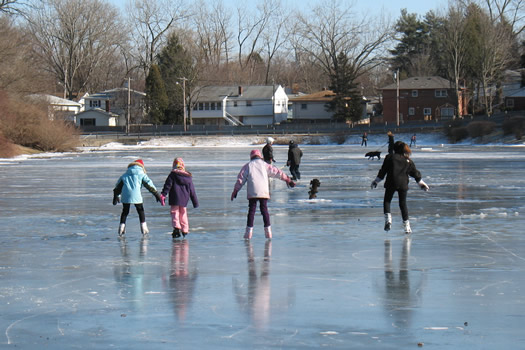 By Katie Beltramo
Between shopping, mailing packages, and cleaning the house for guests, you probably haven't found too much time to think about what you're going to do for that stretch of time between Christmas and New Year's Eve.
Oh, sure, right now, it's shimmering on the horizon, an oasis of restfulness and serenity after the pre-holiday bustling around. You'll have a new book, maybe, and a cozy fire, and the kids will be playing that brand-new video game.
Sounds wonderful, right? Except that then, maybe six hours will pass, and you'll realize that the kids are still playing video games. And your visiting relatives are starting to get itchy. And any minute now they might start noticing all the not-so-clean parts of the house that you didn't get around to fixing up for them.
That's when it's time for a little post-holiday outing. Here are a few suggestions:

Take in a museum
At the Children's Museum of Science & Technology, there are special programs on animal tracking and snowflakes, as well as a camp program.
The Albany Institute of History & Art has three different 3-hour classes for kids ages 6-13. Each class costs $20. Pop your child into class, then browse the galleries on your own--ah, serenity!
New York State Museum has the 26th Annual Capital Kwanzaa Celebration on Tuesday, 12/28 from 4-9 pm. All week long, they'll also have a variety of free programs promoting public health, including a larger-then-life video game, skits, and programs on everything from nanomedicine to bedbugs.
Raise your testosterone level
On Monday the 27th, the WWE presents Monday Night Raw at the TU Center.
Hockey
The Albany Devils play Bridgeport on Tuesday the 28th at the TU Center.
Go See a Show
Steamer 10 Theatre has a magician, puppets, music, and a juggler this week. If you have young children and you've been afraid to take them to a live performance, this is a great "starter" theater. It's also friendly, with cheap popcorn! If you're going with a group, don't miss the Steamer 10 Pass, which gives you a discount for paying for 10 tickets at once. You can share the pass with a friend, or use it anytime within a year.
For those who've graduated from kid theater, Capital Rep continues A Christmas Story all week, although a couple of nights are special fundraising shows, so double check availability.
Outdoor Skating
It should be cold enough for a little outdoor skating on Capital Region ponds. And there are always the rinks. Don't have skates? The Knickerbocker rink in Troy will rent them to you free between Christmas and New Year's.
Take a day trip to go skiing or tubing
+ Ski Butternut in Great Barrington offers lift ticket 3-packs that mean a savings of $15 or $20 per lift ticket, and today (December 20) is the last day to buy them.
+ Jiminy Peak in Hancock, Massachusetts will have fireworks and a torchlight parade for New Year's Eve.
+ Maple Ski Ridge has opened for the season, and it looks like the cold is staying with us to help them out with snowmaking.
+ For a list of additional day trips to skiing and tubing, check out my Embrace Winter page at Capital District Fun.
Catch a movie
Between Narnia, Harry Potter, Tangled, Tron, and Yogi Bear all in theaters now, you're all set. Wait, you've seen those? How about:
+ Proctors is showing The Nutcracker on the big screen on Sunday, 12/26 & Monday, 12/27. They'll also be showing the giant-screen shows Dinosaurs Alive! and Molecules to the Max 3D daily from Sunday, 12/26 through Thursday, 12/30.
+ Scotia Cinema will be showing Megamind all week. Cheap tickets and food, plus a balcony.
Become One with Nature
+ Albany Pinebush has hikes, a program on deep-freeze amphibians, papermaking, and more.
+ Peebles Island State Park has a variety, including a guided hike and programs on kids' survival skills and eagles. For both of these destinations, events cost $0 to $2 a person, making the nature even more delightful.
+ Five Rivers has a Birding for Kids program on Thursday the 30th at 10 am.
Lights
Most of the local holiday light displays are up through the new year, so wait till the sun goes down and take a drive.
Get creative
The Albany Art Room is closed the day after Christmas, but it reopens on the 27th. It's a great way to do messy craft projects and still keep your family room clean.
Enjoy A Family New Year's Eve
Of, course there's First Night Saratoga, with plenty of family-oriented activities during the early shift. The fun begins at 5:30 pm..
The Wood Theater in Glens Falls is presenting Laura Roth's Family New Year's Eve, which is designed for "those people 8-100 who want their New Year's entertainment early."
A few local libraries have kid-oriented parties to celebrate the new year. They're generally at least 12 hours before the ball drops, and a few of them are Guilderland Public Library, Rensselaer Public Library, Colonie Library, and East Greenbush Library.