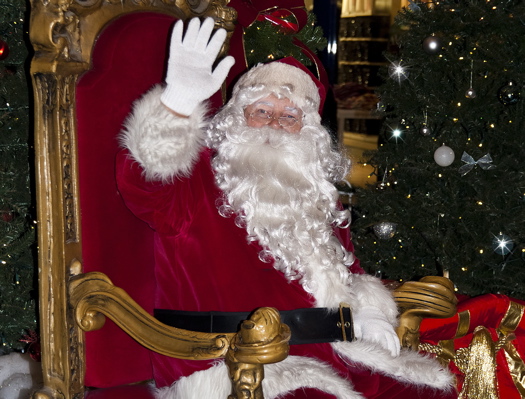 By Vincent Barr
He's an omnipresent part of the holiday season at Crossgates Mall and -- you know -- every mall. The mall Santa Claus.
Every year, millions of kids climb up on his knee and ask for what they want for Christmas, but I had some other questions.
This year, I sat down with the jolly old elf (and not just any old Santa, but a 24-year veteran St. Nick) to pick up some of the tricks of The Claus.
After the jump, one Santa's holiday tales filled with sweetness, hand sanitizer and snakes. Yes, snakes.

Do you practice your Santa voice at home?
All Santas practice the voice. The stereotype of a good Santa to adults is different than what works in the field. If parents want pictures of their kids taken with Santa, they'll go to a photo studio. If they want the Santa experience, then they come to us.
So, what is the "real" Santa experience?
Well, we know the names of the children before they come up. If Santa is supposed to know how you behaved all year, then it's sort of silly to ask what the child's name is as the first question. And most people picture Santa as loud, boisterous and all "ho-ho-ho," but to about 80 percent of 13-month-olds to 4-year-olds, that's terrifying. For older kids, you can be louder, but for young, skittish children we're more soft-spoken. There's a psychology to the experience.

How do you deal with non-believers?
We don't see a lot of that, actually. But, if the children have questions, we usually leave it up to the parents to answer.
Is there an age requirement to be a Santa?
At least 21-years-old, so they can undergo a background check. Our youngest Santa is 54.
You've got little kids coming and going all day. Do you worry about germs?
Not at all, and that's the truth. We don't want to be conduits, though, and shake hands with a child who may be sick and then shake hands with a child who isn't, so we use a lot of hand sanitizers and, of course, Santa wears winter gloves.

Is perspiration an issue in the suit? I mean, it has to get pretty hot under there, right?
It's warm, but we have a few strategically placed fans to circulate the air and plenty of cool water.
Santa Claus versus the Easter Bunny: who wins?
We see identical visits in terms of traffic. Customers typically come in 2 to 3 times per year.
What's your most bizarre Santa moment?
We had one child that had a photo taken with his live Boa Python and Santa.
What was the most heartfelt Christmas wish that you have heard?
A 6-year old boy just last Saturday said "'Whatever you wanna give me is fine. I have all the love that I need." For me, things like that bring us back to what the holiday is about.
Hi there. Comments have been closed for this item. Still have something to say? Contact us.