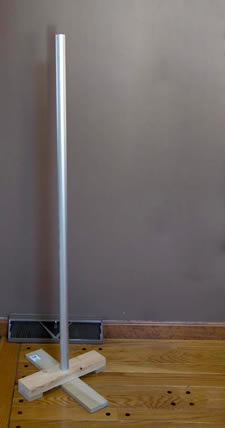 The august holiday of Festivus is traditionally celebrated tomorrow, but we've decided to observe it today with a traditional Airing of Grievances.
So, gather round the unadorned aluminum pole and let it all out. You'll feel better. And it'll make it easier to deal with all those relatives who are about to ask you why you (are not married, don't have kids, haven't finished school, don't live closer to family, are wearing that awful sweater).
To balance the bitter the with some sweet, AOA will give Peppermint Pigs to three people randomly picked from the comments. Here's the deal, though: grievances can not include personal attacks, nastiness or creepiness.
The Editors' lists of grievances are the jump. We're looking forward to hearing yours. Happy Festivus.
Important: To be eligible for the Peppermint Pig drawing, your comment must be submitted by noon on December 23, 2010. You must include a working email address (that you check regularly) with your comment. One entry per person. Winners will be notified by 5 pm that day and must respond by noon on December 24.
Grievances aired by AOA Mary
+ Why do people take up two parking spaces in a residential neighborhood where parking is clearly at a premium? Is their car that much more important? Were they absent on parallel parking day in driving class?
+ Where's the good hot chocolate? Warm milk + Hershey syrup != hot chocolate.
+ Raisins in the cookies. You really think they're chocolate chips. You say awwww yes! A chocolate chip cookie! Then, bang, you hit a raisin. This is very disappointing.
+ Mean people. What's the point of them?

Grievances aired by AOA Greg
+ People who take too long at the ATM. If you're trying to restructure your credit default swaps, or whatever is taking you forever at the machine, you could at least have the common courtesy to walk into the bank and talk to a teller.
+ People who ride right up on your bumper. You know, following that closely doesn't make me want to drive any faster (maybe the opposite, actually). And when I see you at the next stoplight after you've impatiently zipped through traffic -- I am laughing at you.
+ Speaking of traffic lights... the old-school lights without sensors, that just change based on a timer, have got to go. It's absurd to see 7 or 8 cars waiting at an intersection WHEN NO ONE IS DRIVING ON THE CROSS STREET.
+ Central Ave Hannaford, what is the deal with your brussels sprouts? They almost always look second-rate. I thought this was just a Hannaford problem until I saw the Most Beautiful Brussels Sprouts Ever at your location in Latham. Where's the sprout love for Albany?
+ TWC, I'm still irked about the Anthony Bourdain thing.
+ Jim Boeheim, give us some more Mookie. You know you want to. This year's team is good, but they can't hit a three to save their lives. I don't care if Mookie doesn't know the 2-3 from the 1-3-1 from the 4-4-2. Giving him a few minutes each game to launch a few threes can't hurt. And, plus, I just like to yell MOOOOKIE! at the TV.
+ Seriously, what part of "pick up your dog's poop" is hard to understand?
photo: Flickr user M. Keefe
Hi there. Comments have been closed for this item. Still have something to say? Contact us.