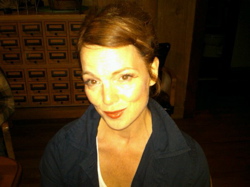 One of the best things about working on AOA is that we get the chance to meet a lot of interesting people. We'll be highlighting a handful of them between now and the start of 2011.
Silvia Lilly says her therapist recently described her as "difficult," which Silvia says should be translated as "independent, outspoken and bossy" with "strong opinions."
The author of DelSo, a blog about Albany's Delaware South neighborhood, also describes herself as "sincere, loyal and good with words." On that last count, we totally agree.
We had never heard anyone refer to your neighborhood as Delaware South or DelSo until your blog. Did you come up with the name?
I was feeling really excited about the improvements to my neighborhood and wanted to document events, people and places in the area that I had lived for 13+ years. I thought the area needed an identity and came up with the name myself in a burst of genius. I like the name because I have a fondness for words with 2-syllables.
Not really -- just kidding! I actually like the name because it lends itself to being called either "DelSo" or "The DelSo" which shows flexibility. It also makes me feel a little bit like I live in NYC without the expense, but with the hipness.
You really seem to love the neighborhood. How would you describe its personality?
It is a great combination of old school and new school. There are established businesses and residences, yet the area welcomes newcomers with warmth and acceptance. My neighborhood is diverse and multicultural. I love that within minutes I can be at the area's best movie theater, a half-dozen awesome eating and drinking places, a library, specialty markets and schools. And those minutes are walking minutes. A perfect day to me is not getting into my car yet still enjoying numerous activities -- and it can easily be achieved in DelSo.
That section of Delaware Ave has been completely reconstructed -- and it looks great. Has all the recent construction changed the neighborhood in more than a cosmetic way?
It seems to have slowed people down in a positive way. No longer does Delaware Avenue feel like a mere conduit between Center Square and Delmar -- it has a much stronger sense of identity, in my mind, and I really believe people are more inclined to walk around and experience all the DelSo has to offer.
Are you hoping all the recent changes in your neighborhood will prompt even more changes? What would you like to see happen there?
I would love to see some more opportunities for outdoor dining in the warmer months and maybe more organized activities for children. As my kids get older, I'm starting to think it would be nice if there were more events for teenagers -- perhaps special movie events or game nights to attract kids to get together in a comfortable, inviting space like the public library, The Spectrum or the VFW.
Do you feel like anything has happened because of the blog? Even small ones, like a neighbor who says hello?
People are actually using the term DelSo!! How cool is that? I've also been identified from my writing, which is a little disconcerting (oh my, people are reading it?!) but mostly gratifying (oh, my, people are reading it!?).
Has writing the blog prompted any changes in you?
I'm more disciplined about writing and sharing my adventures on a regular basis. I think my perspective has shifted a bit and I try to experience life as my own self, yet with a consciousness that I'm potentially going to be describing the experience to an audience.
I'm also considering what my boundaries are and realizing that I'm inclined to share a bit more than other people are necessarily comfortable with -- and that's more their problem than mine. This is the first time I've written for an audience other than a professor, and it has been gratifying to receive feedback, in the form of both comments and conversations, without the pressure of being graded.
What's next for you?
In the New Year, I intend to persist in my exploration of varying degrees of being naked, primarily in my writing. My practice of rotating the towels in the linen closet, and the dishes in the cabinet, will remain a harmless compulsion, and hair on the bar of soap will continue to be the bane of my existence.
Bring it on 2011.
This conversation has been edited.
Hi there. Comments have been closed for this item. Still have something to say? Contact us.