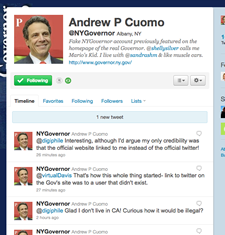 UAlbany nanoscience grad student Nick Fahrenkopf noticed this past weekend that the Twitter account originally linked to on Andrew Cuomo's official gubernatorial site didn't exist. So he created the account. We go to NYT for the rest of the story (links added):
And Mr. Fahrenkopf's first few Twitter messages seemed right out of the governor's press office, providing links to the first executive order that Mr. Cuomo signed on Saturday, the transcript of his inaugural address, and a Web page to enter the lottery to receive tickets to the State of the State address on Wednesday.
But the tone eventually got less statesmanlike, as the subjects veered toward his dislike of the Executive Mansion (not enough parking for his muscle cars), possible staff appointments (including his predecessor, David A. Paterson, to write jokes for his speeches); and plans for the next snowstorm (shoveling people out in Albany, Ã  la the Twitter-friendly mayor of Newark, Cory A. Booker).
Of course, word got around that the account wasn't actually Andrew Cuomo (if only). But it was (and continues to be) fun. And as Nick tweeted (on his own account) yesterday: "To be fair- Cuomo has his hands full. There is a lot to be done. But don't do Web/Twitter/Social Media half ass."
Could the fake world already be a view into the real world? Because Fake Shelly Silver is already annoyed with Fake Andrew Cuomo.
By the way: the real Andrew Cuomo Twitter account is @nygovcuomo.