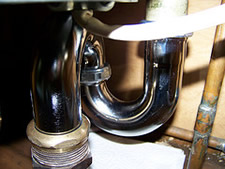 With what we can only guess is the sound of running water in the background, Chrissy emails:
Does anyone know a good/trustworthy plumber in the Schenectady area or one is Albany that will travel a bit?
I have 2 toilets that are running constantly, a broken faucet, and a crappy old sink that needs replacing. After a crazy high water bill I am finally going to stop procrastinating about it but I don't really want to just pick a name from the yellow pages. The last time I did that I got a drunk Jerry Garcia look-alike that told me the reason my water suddenly smelled like rotting garbage was because I live in Scotia. Not entirely untrue, but I need someone with a more scientific? approach to plumbing problems. Any recommendations?
We called Crisafulli for an acute plumbing problem (broken pipe) awhile back. They responded promptly and fixed the problem, at what seemed like a fair price.
But there are a lot of plumbers out there. Know of a good one for Chrissy? Please share!
photo: spierzchala
Hi there. Comments have been closed for this item. Still have something to say? Contact us.