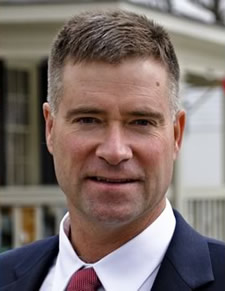 Chris Gibson is officially on the job as a Congressman after the 112th Congress convened Wednesday. And his congressional office space is now his second home -- both figuratively and literally.
Gibson is one of the apparently large handful of Congressional reps who have decided to not get a place to stay in DC -- so they're sleeping in their offices. Gibson will reportedly be bedding down on an air mattress (let's hope he at least sprung for an Aerobed) and showering in the Congressional gym. [WSJ] [State of Politics]
The Congressman has said that renting a place in DC was an unnecessary expense. And as he told YNN last month:
Look, it's going to better accommodations than I had over in Iraq. I can tell you that much. Really when I'm there, I'm really focused on work. They aren't 9 to 5 hours, it's up to 18 hours a day. [WNYT] [YNN]
By the way: the salary for House members is is $174,000 a year. Gibson has stopped taking his military pension while he's on the Congressional payroll so as not to be a double dipper. [Wikipedia] [Journal Register]
Hi there. Comments have been closed for this item. Still have something to say? Contact us.