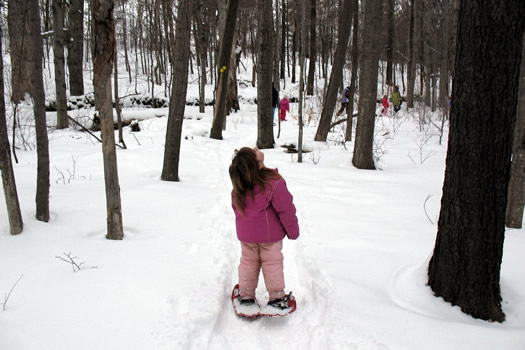 By Katie Beltramo
Let's face it: we live in Upstate New York, and we're likely to see plenty of snow in the next two or three months. This time of year it takes considerable willpower for me to resist snuggling under the covers with a book and hibernating until spring.
But that's no way to live! Okay, honestly, it's pretty good for a morning once in a while.
However, since I don't want to creep out of bed on March 20 looking pasty and pudgy and blinking at the unfamiliar sunshine, I try to do winter-only activities for a little outdoor fun. And snowshoeing is great way to start.
Get out there
If you usually avoid winter, it's likely that there will be a learning curve with some of these activities. I'd argue that it's worth it to spend a few hours clinging to the railing at an ice rink or sliding down the bunny slope with your knees aching in a deep snow plow, because eventually, you'll improve and enjoy yourself.
Why snowshoeing?
The easiest activity for a first-timer, by far, is snowshoeing. Wait, did you expect sledding? You only think sledding's the easiest because you did it as a kid. There's the fine art of steering and all of that hiking back up the steep hill, not to mention the possibly-injury-inducing high velocities. Sure, crashing into a drift and getting a face full of snow is part of the adventure. But snowshoeing is easier--and less hazardous.
Snowshoeing is basically just an exaggerated, slightly gliding walk. Strap the shoe on and lift your feet up a bit more than usual. Now, if you hate walking and hiking, it's probably not your cup of tea. But snowshoeing can feel like an entirely different experience. There's that hush that comes over the world after a snow. Sure, you're communing with nature on a spring hike, but with all of that new growth and life surrounding you, it can feel hectic even out in the woods. Go the same route in snowshoes and there's much more stillness. Just moving feels like a meditation, with only the satisfying crunch-crunch of your steps to break the silence. Even better: take a snowshoe walk at night under a full moon. Stepping out into a clearing full of snow bathed in moonlight is a positively transcendent experience.
Where to find snowshoes, and where to use them
But wait! Where are you going to find some snowshoes? There are plenty available for you to try them out. Many places offer guided outings or rent or sell snowshoes. If you'd like to rent snowshoes, you should always call ahead to check availability.
Eastern Mountain Sports sells and rents snowshoes for kids and adults. The Stuyvesant Plaza location rents for $20/first day and $15/each subsequent day, and the Niskayuna location rents for $15/day or $30/3 days. For purchase, prices range from $140-$270 and they're currently 20% off. The sale should last another week and a half. EMS is running a Demo Day at Grafton Lakes State Park on January 22 from 10 am to 2 pm. The various locations are likely to schedule additional outings if the snow lingers.
Goldstock's Sporting Goods in Scotia rents snowshoes for $15, and they must be returned by the end of the second day after you've rented. They also sell snowshoes for $120-$300.
The LL Bean at Colonie Center has Snowshoeing Walk-on Adventures frequently. For $15, they'll provide you with equipment and take you on a guided trek. This is designed for ages 8 and up. Check the link for dates and times. They also sell children and adult snowshoes. They cost $59 to $200.
Moreau Lake State Park in Saratoga County rents snowshoes at $5/half day or $10/full day. They have many snowshoe Treks planned, frequently during the week. They also have a Moonlight snowshoe on Friday, January 19 at 6 pm.
Plaine and Son in Schenectady sells snowshoes for between $70-$100. They don't rent, but they do have a Demo Day planned at Maple Ski Ridge for January 15 & 16. They also have a Snowshoe Outing planned for January 23 at 9 am at Plotterkill Preserve. You'll need to bring your own snowshoes, but they'll help you out on tips and techniques.
Thacher Nature Center rents snowshoes at $5 for four hours. They also have Snowshoe Walks on January 16 (Saturday), January 23 (Sunday), & February 12 (Saturday), all at 10 am, as well as a Friday night Moonlight Snowshoe Walk on February 18. Call ahead to reserve a spot.
The Albany Pine Bush does not rent snowshoes, but they'll occasionally plan a Snowshoe Adventure walk. When they do, you need to call ahead to register, and the cost is $3/person or $5/family. They're having one tomorrow, January 8, from 10:30 am to noon.
Dyken Pond in Rensselaer County has a Snowshoe Trek tomorrow, January 8, from 1-3 pm. On January 19 & February 18 at 7 pm they have Full Moon Snow Treks for snowshoeing and cross country skiing. Their website states that they have rentals, but I was not able to reach them for details.
Up Yonda Farm offers snowshoe rentals $6. They also have a Snowshoe Hike or hike planned for Saturdays at 1 pm on Saturday on January 8, January 22, and February 5. These are $7 for the snowshoe rental and hike.
Wilton Wildlife Preserve and Park rents snowshoes at $5 for a half day or $10 for a full day on most weekends (check their schedule for availability). They also hold an Annual Moonlight Ski and Snowshoe on January 15 at 7 pm.
Landis Arboretum in Schoharie County offers Second Sunday Snowshoes (January 9, February 13, & March 13) from noon to 2 pm. They'll loan out a limited supply of snowshoes. $5/person or $15/family.

For more basic information about snowshoeing, check out Snowshoe Magazine's page for first-timers.
If you already snowshoe, are there great snowshoe sources or locations that I've missed? Or do you have a favorite trail that you're willing to divulge?
Katie is the editor of Capital District Fun, a place to find things to do for kids and families in Schenectady, Albany, and Troy
Hi there. Comments have been closed for this item. Still have something to say? Contact us.