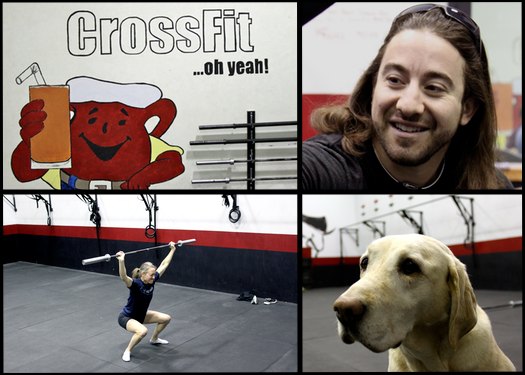 By Liz Clancy Lerner
At Albany Crossfit there is a mural of the Kool-Aid man on the wall.
It's not there because it's the gym's recovery drink of choice; it's a reference to the drinking the Kool-Aid, cult-like following that often surrounds the gym.
In its simplest form, Crossfit is a strength and conditioning program with varied, intense workouts. Its athletes are encouraged to follow the WODs (or, Workouts Of the Day) and eat a strict Paleolithic diet . They see results -- and that, according to Albany Crossfit founder Jason Ackerman, is why its members are so passionate.
Nationally, Crossfit has been around since the late 90s. Albany Crossfit was created almost four years ago - before many other cities caught on.
AOA sat in on a workout recently and talked with Jason. We covered topics ranging from throwing up during a workout, to eating like a caveman, to Marley -- their three-legged mascot.
How do you explain Crossfit to people who are unfamiliar with it?
It's hard to put into words; so our usual explanation would be come on in and we'll show you all about it. It's a lot easier that way, but the standard definition would be: constantly varied functional movements executed at a high intensity. You can tell somebody that and it still probably makes no sense to them.
To dumb it down a little bit; it's just different workouts everyday. We work really hard and we do more functional movements than you find at a typical gym.
How is the philosophy at Crossfit different than other gyms?
It works. For most people that go to a regular gym, they have no direction and no idea what they're doing. Although we've grown, we still have a very close relationship with all of our athletes and we make sure they're doing everything properly, so clearly, they get 100 percent direction when it comes to the workout because we describe it to them. But also people don't realize that nutrition is about 80-90 percent of how you're going to look, perform and feel. So that is something that we push very early on in their journey here.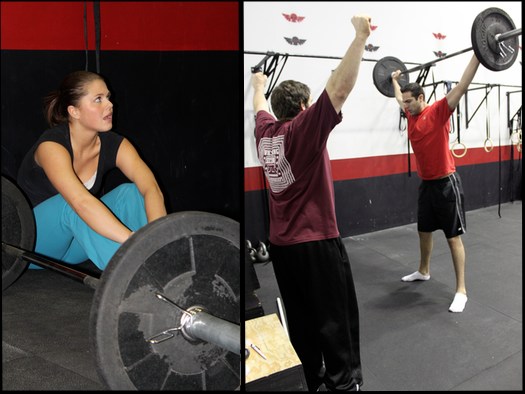 How many members do you have?
We're approaching 300 members. Over the last 6 months to a year it's been steady; never really losing more than we gain each week.
We don't do a lot of advertising. Our members are like walking billboards for us. We have an army of marketers; if someone's family or friend comes in here there's no convincing. They've seen the people lose the weight and they've seen them get stronger so they know it works. So the more people we have, the more people we get. Crossfit is still in its infancy.
Can the average person Crossfit?
Crossfit is for everyone, but everyone is not for Crossfit. Anyone can do it but you certainly have to have some sort of mental strength because it's not just going to the gym and moving a pin down once a week and reading a magazine on a bicycle. Everyone should do Crossfit. It would help them not just physically with their health but mentally as well. A common trend is for people to say, wow I can handle this stress better, or my boss doesn't bother me as much, or I can lift my grandkids now when I babysit.
We're more expensive than your average gym, but you're getting small group training on a daily basis. $150 a month on average is what it costs.
The workouts are cool and the nutrition is important but the community is really what makes our facility stand out. The first one done, no matter who it is, will be the first one cheering on the rest of the group.
What is the Paleo Diet and why do Crossfitters eat this way?
If a caveman wouldn't eat it, you shouldn't eat it. Or, on a most basic level: meats, vegetables, nuts and seeds -- living foods, that type of stuff. Nothing processed. Nothing in a can. It's simple and it's easy to do.
We encourage everyone to eat Paleo foods and if they can handle it, in zone (30 percent fat, 40 percent 'good' carbohydrates and 30 percent protein) proportion. We don't prescribe straight zone.
Because it works. What we like to say is that we will take anything that works and incorporate it into Crossfit -- be it an exercise, a group of exercises, or a style of nutrition. And one thing that Crossfit has found is that the Paleo lifestyle works -- it's healthier. So not only are people looking better, they feel better, they're performing better for the workouts and they're also getting much better results when it comes to their health: blood pressure, cholesterol -- we've had members get their physical and their doctors ask them what they are doing and they say it's Crossfit.
Do many people throw up during these workouts?
I wouldn't say a lot; it happens. It's not encouraged, but it is like a badge of honor to some people.
I would say, maybe less than 10 times since we've been open and I was probably two of them. A lot of time it's the right movements with the wrong foods and people next to you pushing you a little harder than you wanted to go and you went there. We used to have a puke bucket but it wasn't getting used enough so we got rid of it. It's mostly the younger men who come in with an ego and we make them check it.
You have a painting of the Kool-Aid man on the wall here, and I've heard the term cult used before when describing Crossfit -- where does this stem from?
For one, how can we be a cult -- you're welcome to leave at any time. But, you do see a common trend among new people where they may be a little skeptical and then they start to enjoy it and they're full blown addicts and on the website 24 hours a day.
People become that way because it's a lifestyle and for people that work full time, this is like their fun thing outside of work and family and if you're doing something that makes you fitter, healthier and look better you're going to talk about it a lot.
To the average person that hasn't been here it seems really crazy dangerous and impossible, but as anyone that comes in and sees a typical class: we have a 60-year-old woman -- a few women in their 70s now. And you have Marines and teenagers and other great athletes doing the same work to the best of their ability.
We're probably a bit cultish, but in a good way.
Did you get many new members this month?
We're not a New Year's resolution type gym because a) We're more expensive than the average gym -- it's not something that you're going to throw $9.99 down for and not come in and, most of our new members come from word of mouth and they're telling their friends and family year round, not just January 1st so I think that's why we don't see a super influx come January. I think year round we grow steadily. We probably have our biggest growth when other gyms slow, and that's because we're outside. So at a time when most people don't want to be inside working out, we're outside working out.
Tell me about Marley, your 3-legged wonder dog.
I've had Marley almost 3 years. I have two pugs and it's too dangerous to bring them here; they're so small and can get in the way. We went over to Homeward Bound (dog rescue) and she was just sitting there and we just clicked. I didn't realize she had 3 legs at first. I also didn't realize at the time that she is very afraid of men.
She loves playing ball and is faster than most four legged dogs -- so she does Crossfit. She's become the mascot, she's on the wall, we put her logo on our newer t-shirts and she's in the background of 90 percent of our pictures.
____
Jason's got the outreach thing down. He posts on the Albany Crossfit site daily, has a podcast and makes "commercials" for members. While they don't get many New Year's resolution folks, they do have a holiday special.
Find It
Albany Crossfit
444 Sand Creek Road
Colonie, NY 12205
(518) 250-9348
Say Something!
We'd really like you to take part in the conversation here at All Over Albany. But we do have a few rules here. Don't worry, they're easy. The first: be kind. The second: treat everyone else with the same respect you'd like to see in return. Cool? Great, post away. Comments are moderated so it might take a little while for your comment to show up. Thanks for being patient.