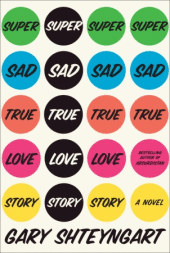 The spring lineup for the New York State Writers Institute is out. And it looks like this season's slate is packed with interesting events. It might be one of the best seasons in a few years.
A handful of the dates that caught our eye -- including Gary Shteyngart, Maureen Dowd, and James Gleick -- after the jump.

all descriptions from the Writers Institute site
V. S. Ramachandran, neuroscientist and author
January 31
Vilayanur S. Ramachandran, one of the world's foremost neuroscientists and a brilliant writer, is the author of books explaining new discoveries in his field. His most recent book is The Tell-Tale Brain: A Neuroscientist's Quest for What Makes Us Human (2011). In advance praise, Oliver Sacks said, "No one is better than V. S. Ramachandran at combining minute, careful observation with ingenious experiments and bold, adventurous theorizing. [This] is Ramachandran at his best,...profoundly intriguing and compelling..." His earlier books include A Brief Tour of Human Consciousness (2004) and Phantoms in the Brain (1998, with Sandra Blakeslee).
Cosponsored by UAlbany's Science Library
Julie Orringer and Karen Russell, fiction writers
February 10
Julie Orringer, fiction writer, is the author of the debut novel and surprise bestseller, The Invisible Bridge (2010), the story of a Hungarian Jewish architecture student and his experiences during the Holocaust. The novel was named one of the 100 Notable Books of 2010 by the New York Times. Michael Chabon said, "To bring an entire lost world...to vivid life between the covers of a novel is an accomplishment; to invest that world, and everyone who inhabits it, with a soul,... takes something more like genius." She is also the author of the critically acclaimed story collection, How to Breathe Underwater (2003).
Karen Russell, fiction writer and Miami native, was featured in New York magazine's "25 People to Watch Under the Age of 26," based on the success of her debut story collection, St. Lucy's Home for Girls Raised by Wolves (2006). She also received one of the National Book Foundation's "5 under 35" young writer awards and was selected as one of Granta's Best Young Novelists. Her first novel, Swamplandia! (2011), is set in a "gator wrestling" roadside attraction in the Florida Everglades. In a starred review, Library Journal said, "This wildly imaginative debut novel delivers...."
Gary Shteyngart, novelist and satirist
February 17
Gary Shteyngart, Russian-American humorist, is the author most recently of Super Sad True Love Story (2010), a tragi-comic romance set in a not-too-distant, but extremely screwed-up America of the future. Michiko Kakutani of the New York Times, who named it one of the top ten books of 2010, called it "wonderful... a supersad, superfunny, superaffecting performance...." Shteyngart received the Stephen Crane Award for First Fiction and the National Jewish Book Award for his first novel, The Russian Debutante's Handbook (2002). Both the New York Times and Time magazine named his second novel, Absurdistan (2006), one of the "10 Best Books of the Year."
James Gleick
March 3
James Gleick, leading American science writer, transformed the nation's consciousness with his 1987 book, Chaos, a popular and accessible introduction to the complex field of chaos theory. His newest book, The Information: A History, A Theory, A Flood (2011), is a magisterial popular history that illustrates how information has become "the modern era's defining quality--the blood, the fuel, the vital principle of our world." Gleick is the author of numerous books that have earned superlative praise, including Genius: The Life and Science of Richard Feynman (1992), Faster: The Acceleration of Just About Everything (1999), and the biography, Isaac Newton (2003), which John Banville, in the Guardian, called, "A masterpiece of brevity and concentration... the definitive study for a very long time to come."
Maureen Dowd, journalist and political columnist
March 10
For the second time, the New York State Writers Institute will host a rare public appearance by Maureen Dowd, the Pulitzer Prize-winning New York Times columnist renowned for her witty and acerbic commentaries on the culture and politics of Washington, D. C. Dowd is famous for attacking hypocrisy, ridiculing stupidity, making fun of blunders, and pointing out political "no-nos" among Democrats, Republicans, Obama supporters, Tea Party activists, the Bush family, liberals, conservatives, populists, elitists, feminists, and evangelicals. Though sometimes berated for her skepticism, Dowd told a Boston Globe interviewer, "I believe in skepticism because I believe that's [journalism's] role in democracy. ..." Dowd joined the New York Times as a metro reporter in 1983, and has served as editorial page columnist since 1995. Two collections of her columns have been published in book form, Bushworld (2004) and Are Men Necessary? (2005). Dowd last visited the Institute in September 2004.
Edmund Morris, presidential biographer
March 15
Edmund Morris, biographer, is the author most recently of Colonel Roosevelt (2010) the final volume in his critically acclaimed trilogy on Theodore Roosevelt. Morris's first volume, The Rise of Theodore Roosevelt (1979), won the Pulitzer Prize and National Book Award. The second volume, Theodore Rex, was published in 2001. The Los Angeles Times declared the trilogy "masterful...among the truly outstanding biographies of the American presidency." Publishers Weekly described Colonel Roosevelt as "a witty, insightful biography combined with a vivid political history...It is a joy to read." The authorized biographer of President Reagan, Morris published the bestseller Dutch: A Memoir of Ronald Reagan in (1999).
Cosponsored by the Friends of the New York State Library
Seth Mnookin, journalist and nonfiction author
March 22
Seth Mnookin is a journalist and award-winning author of books on a wide range of subjects. His latest book is The Panic Virus: A True Story of Medicine, Science, and Fear (2011), which explores the science of vaccination and the claims that vaccines cause autism and other developmental disorders. In advance praise, Jonah Lehrer (How We Decide) said, "This important book should be read by anyone who has a child, cares about public health, or is interested in the state of discourse in 21st century America." A contributing editor for Vanity Fair, and a former senior writer for Newsweek, Mnookin is also the author of Feeding the Monster (2006), a best-seller about the Boston Red Sox. His book Hard News (2004), a critical look at the journalistic and management practices of the New York Times, was named a Best Book of the Year by the Washington Post.
American Place Theatre performance of The Brief Wondrous Life of Oscar Wao (by Junot Díaz)
March 24 (Thursday)
American Place Theatre returns to present a one-person theatrical adaptation of Junot Díaz's Pulitzer Prize-winning epic story of Oscar Wao, an overweight Dominican boy growing up in New Jersey who is obsessed with science fiction, fantasy novels, comic books, and role-playing games. At the same time, Oscar seeks to escape the "fukú" (family curse) that has plagued his family for generations.
Presented by the Performing Arts Center in conjunction with the New York State Writers Institute
John Patrick Shanley, playwright and screenwriter
April 6
John Patrick Shanley, major contemporary playwright noted especially for his working class New York dramas, received the Pulitzer Prize and the Tony Award for his 2004 play, "Doubt: A Parable," about allegations of sexual misconduct at a Catholic school in the Bronx. Shanley directed his own adaptation of DOUBT for the screen, starring Meryl Streep and Philip Seymour Hoffman, in 2008. The film earned five Academy Award nominations, including best screenplay. In 1987, Shanley received an Oscar for his original screenplay for the hit film MOONSTRUCK. His notable plays include "Women of Manhattan" (1986), "Psychopathia Sexualis" (1998), "Dirty Story" (2003), "Defiance" (2005), and "Pirate" (2010).
And we could have picked a few more. The institute's site has the full lineup, with times and locations.
Say Something!
We'd really like you to take part in the conversation here at All Over Albany. But we do have a few rules here. Don't worry, they're easy. The first: be kind. The second: treat everyone else with the same respect you'd like to see in return. Cool? Great, post away. Comments are moderated so it might take a little while for your comment to show up. Thanks for being patient.