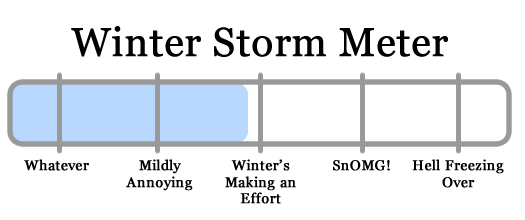 Update: The projections for snowfall have been revised upward, now to somewhere in the 10 inch range. That pushes this storm solidly into the "Winter's Making an Effort" category.
____
After sitting the barn for months, the Icy, Snowy Apocalypse Meter gets rolled out twice in the span of a week. We can barely contain our excitement.
Here's the situation, from the (paraphrased) forecast:
Today: Cloudy. Cold. Probably a few flurries.
Tonight: There will be snow, probably late in the night. Maybe something like 3 inches.
Wednesday: More snow. Accumulation of as much as 5 inches.
Wednesday night: Some chance of more snow, but not much. Very nippy. Lows in the mid-teens.
Thursday: Cloudy. Cold.
Here's the deal with this particular apocalypse: two storms are said to be merging on the coast, and the combined storm will Nor'easter its way (yep, we used that as a verb) up the coast. Depending on the track of the storm, we could see a fair amount of snow -- or just a bit. Whatever happens, the farther east and south you go, the better the chances of big totals (that means you, Rensselaer and Columbia counties). Of course, things change -- and if the track turns this way -- get ready to shovel.
All that said, the forecasters seem relatively certain we're just going to be grazed by this one -- ending up with 8 inches at the most. So, we're going to peg this as nearing "Winter's Making an Effort" territory.
Necessary note: You should take this all with an enormous bag of rock salt. AOA has absolutely no weather forecasting expertise. At all. We do, however, think it's funny how every winter storm is treated like the end of the world.
Hi there. Comments have been closed for this item. Still have something to say? Contact us.