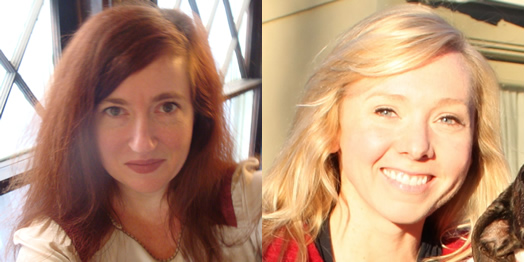 Please extend a big AOA welcome to Akum Norder and Liz Clancy Lerner, our two new associate editors.
We're very excited to have them working with us for the next few months. Akum and Liz are both smart, fun, interesting and interested.
Here's a little bit more about them...
Akum Norder
akum |at| alloveralbany |dot| com - @StickFigureMan
Akum is a writer, editor and teacher with a passion for Albany. We were already fans of Akum from her Twitter account, comments here at AOA and blog about Albany history, "A History of Here." She's turned out to be even cooler in real life. And by the way: Akum is pronounced "a-keem" -- but "Ms. Norder" also works.
Liz Clancy Lerner
liz |at| alloveralbany |dot| com - @LizClancyLerner
Liz is originally from from Brockton, Massachusetts, but has spent the last year and a half getting her master's degree in broadcast journalism at the University of Illinois. Previous to that she worked at Quincy Access Television in Massachusetts for five years as a producer, coordinator and anchor. She also helped start a small documentary film company. She now lives in Niskayuna. Liz loves the outdoors, playing sports, cooking, and playing tug-of-war with her dog Henry. While she was in Champaign-Urbana, she skated with the Twin Cities Roller Girls as Bear Kylls (you know, like Bear Grylls).
Liz and Akum have been working with for the last week -- we've been showing them where the (virtual) office supply closet is and that kind of stuff. It's been a lot of fun. As we get everyone up to speed, it's our hope to start doing a bunch of new/better things. Many of those are still a few months off, but we're working toward them.
Thank you to everyone who applied One thing that became very apparent during the hiring process for this job: there are a lot of talented people without jobs right now. It's sobering. We ended up meeting a bunch of interesting, skilled people -- so many that we could have hired for five or six positions, if we had the resources. We very much appreciate everyone who took the time to apply.
Hi there. Comments have been closed for this item. Still have something to say? Contact us.