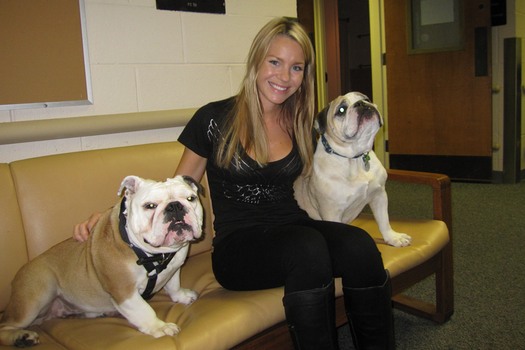 By Liz Clancy Lerner
Kylen Kline spent the last two years dealing with some real divas. She was on the road with stars from Legally Blonde the Musical driving from coast to coast in a van and working 8 shows a week. "It was exhausting work," she says.
Most of Kylen's time was spent catering to the stars' needs, but she didn't mind it because those stars -- two Chihuahuas and two Bulldogs -- showed their appreciation with wagging tails and sloppy kisses.
Now Kylen's back in her hometown (she went to high school in Clifton Park) and realizing her dreams. Kylen has created StarPups, an in-home boarding, dog walking and cat visit business that will be expanding to a doggie day-care, training facility and boutique in the fall.
I talked with her recently about life on the road with a Broadway show, her business plans and how little dogs can be big divas.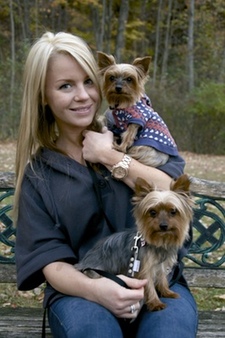 How did you get started with dog training and walking?
When I was living here I was working for Verizon Wireless and then I transferred to Boston and then to New York, so I was very corporate and in sales. I always had a big heart for dogs, but I never really had the opportunity to work with them so I decided to just start my own dog walking business one day. So I quit my job and just started from the beginning - grassroots.
Where did you get your training?
I didn't really have any background in behavior or training, but then I met Bill Berloni, who's a world-renowned trainer. He's very, very well known in New York with all the theater dogs. He trained the first Sandy for Annie the Musical 30 years ago.
How did you meet him?
I met him through a friend of the family and he kind of took me under his wing and I really learned all that I know about behavior and training from him. All the dogs that he has ever trained are rescues, so it's a lot of rehabilitating dogs too I've learned. Not a lot of puppy training but a lot of damaged dogs and abuse cases so I did that in the city for a few years and that's where I got all the experience from. So, no formal training, no school for that... but the best way to learn is hands on from somebody who has been doing it their whole lives and he's done dogs, cats, birds, rats - he's trained all kinds of animals.
How did you get involved with Legally Blonde the Musical?
It was the show that Bill was on. He started that show in San Francisco and they did the beginning process of the Broadway show. I didn't start the show but I jumped in on it when he was getting so much work that he needed somebody else. And there were bulldogs and chihuahuas on that show, so he hired me and he liked that I didn't have a background in training so that he would have to retrain me -- we could just start fresh. It was kind of like it fell into my lap. It was cool.
You were on Broadway for two years and then traveling with the show for two more. What was that lifestyle like?
Well, I think I'm just decompressed now. I just got off the road in August. It was an amazing experience and I absolutely loved it. But we drove the dogs -- where the cast and crew would fly, we took a minivan and had to drive from city to city with the five dogs. So we had the two bulldogs, the two chihuahuas and my Yorkie. It was 8 shows a week, it was no days off -- on our day not doing a show it was traveling, so if you're flying or driving you're exhausted.
What was a typical day like? Did your day revolve around the wants and needs of the dogs?
Yes. That's all my life has been. [The dogs] stayed in the hotel rooms with us. The schedule is very regimented and we can't have them having accidents on stage. We'd have rehearsals on Fridays, two shows on Saturdays, two shows on Sundays, Mondays traveling, Tuesdays we'd open a new theater so we'd go in and set up our dressing room and do on stage training and have meetings and then Wednesday and Thursday we'd generally have one show but we'd have a lot of press to do and everyone wanted to see the dogs and the lead Elle, so it was a just constant press.
Did they like the attention?
The dogs loved it, but it could get exhausting. So anytime that I had free I was going to the gym or resting with them because they needed their rest. So it was just crazy -- insane.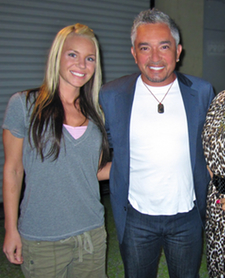 That's a packed schedule. Could you tell when the dogs were tired or overwhelmed?
Sometimes I would have to decline on press just because they were exhausted and on certain travel days they were just sleeping -- they were just beat and it broke my heart so I would offer to do the interview for the press.
Five dogs in one van -- did they get along?
It was a great little pack. We had to set it up that my Yorkie was the boss because she's like this big [Kylen makes a figure with her hands that's the size of a large coffee mug] which was hysterical. They all just respected her and it went down from there. We had two leads: Bruiser, Frankie and then Roxie, who's definitely second in the pack -- she just ruled the roost, but totally respected Daisey (Kylen's Yorkie).
Were any of the dogs divas?
Oh my gosh -- yes. It's funny how they know. They get such special attention -- to the point a half hour call before the shows, I had a socializing event with the chihuahuas where we'd go around and meet everyone and they know they're special and they know they get special treatment. Chico, who was on the Broadway show, was a major Diva.
Tell me a bout StarPups. When did you come up with the idea?
On the road I realized what I wanted to do; I loved taking care of the dogs and behavioral stuff -- not so much training. I never really wanted to get into training people with their dogs, but training of dogs I love and having the dog walking business I love, so I kind of went around and scoped each city and the boutiques and pet care that was provided around and I noticed that day care was huge -- not so much around here, it's growing here. On the West Coast, Colorado, California it's huge. So I really fell in love with the having a place for the dogs to come during the day while owners are at work and having an interactive situation where they're getting exercise and structure and kind of like, basic obedience, too -- so kind of like a daycare/school.
I think that everyone wants to have the perfect family dog and they love to give the affection but the exercise and the actual discipline of having a dog is something that a lot of people don't have time for so with day care I'd be able to provide that exercise and discipline so when they pick their dogs up they'll be more balanced.
And they can give the affection and they can keep on with the training and the basic obedience, but the dog will be well exercised and not overly excited to see them. When you come home from your day at work you're beat and a lot of people go out and walk the dog and that's often not enough -- dogs really need to have exercise. The socialization part is important, too.
What is it about dogs that you like? Why do you like working with them?
The unconditional love, the companionship -- they're so in the moment and so real. They're just the sweetest things ever and I love all of them. I just can't imagine life without a bunch of them -- they're just the best.
This interview has been edited.
----
Kylen has a website for StarPups. She also has a Facebook page (if you "like" the business on Facebook Kylen will give you a free consultation and home visit/walk).
All photos courtesy Kylen Kline.
Hi there. Comments have been closed for this item. Still have something to say? Contact us.