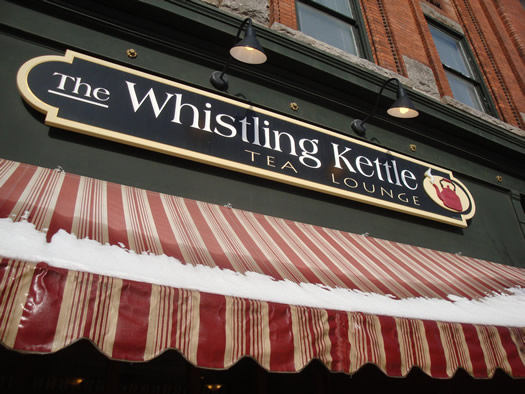 By Akum Norder
Not all of winter's pleasures take place outdoors.
Sure, it's exhilarating to be out in the frosty world, crunching the snow under our boots and taking in great lungfuls of crisp, pure air.
But there's something wonderful, too, in seeing a snowy world through the window, relaxed and warm, with a cup of something in your hand.
The Whistling Kettle in Ballston Spa is just the sort of place to enjoy the fact that it's winter outside, and you're not outside in it.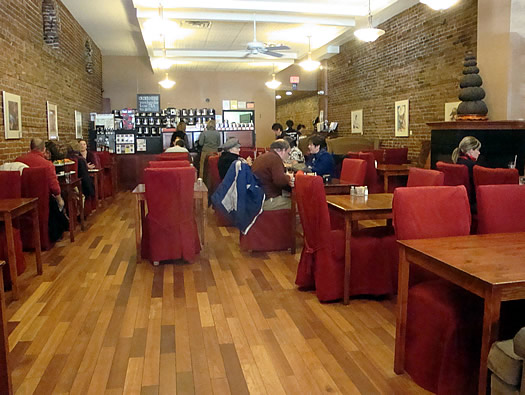 This tea room is cozy, defined: A fireplace beckons. The walls are the warm color of exposed brick. Settees are pulled up to tables; the straightback chairs have red chair covers.
And then, of course, there is the tea.
The tea menu is almost mind-boggling. You'll need ten minutes just to study it. If you're waiting for a table up front -- the Whistling Kettle doesn't take reservations -- you can narrow your choices by spending time at the "sniffing bar," opening the little glass pots and finding which aromas entice you most.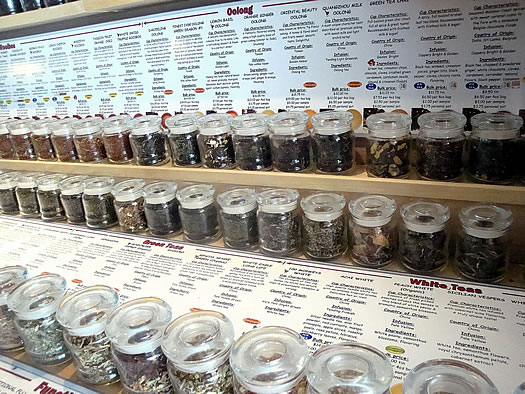 In my eyes, the coziest thing to order in this cozy place is afternoon tea. Served all day, afternoon tea brings you a trio of food selections, none of them huge, but plenty to fill you up. You choose a soup or salad, a main course (a panini sandwich, a savory crepe, quiche) and a sweet. And, of course, you choose a pot of tea.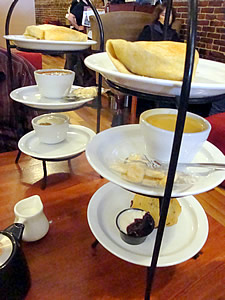 The server brings all three courses at once on a three-tier plate stand, so you can nibble as you please. It adds to the sense of being taken care of, of being given everything you need.
The crepes are imaginative -- mine contained chicken, arugula, avocado, and a chipotle cream -- but the soups are the highlight. The roasted red pepper with Gouda has unexpected depth; the lobster bisque, a buttery richness.
Sweets include cobbler, tea bread and a daily selection of scones. Scones are served with a tiny cup of sweet cream and raspberry preserves, which you might be tempted to eat with a spoon. (At least, I was. And did.)
In addition to the regular menu, the Whistling Kettle offers a gluten-free menu. There's a menu for kids as well. They also sell bulk teas and tea equipment.
Is tea not your cup of ... well, tea? They also have coffee. And beer and wine, if you prefer to warm up that way.
The Whistling Kettle's not quiet -- the place is dense with tables. But it manages to be cozy anyway.
When you feel like venturing back out into the cold, you'll find several well-stocked antiques shops within walking distance, plus the National Bottle Museum. Add them together and Ballston Spa has all the makings of a charming afternoon.
Find It
The Whistling Kettle
24 Front Street
Ballston Spa, NY 12020
Hi there. Comments have been closed for this item. Still have something to say? Contact us.