By Akum Norder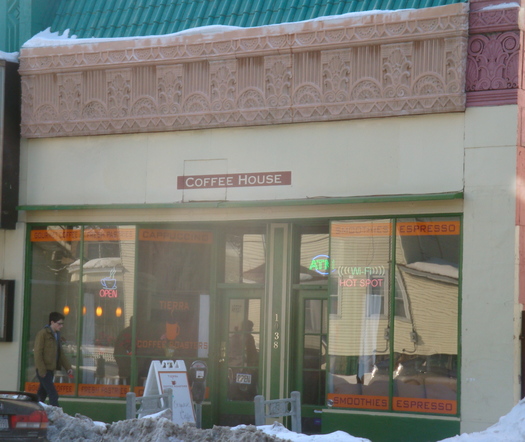 Albany's unnamed coffee house has finally settled on a name.
The cafe, on Madison Avenue near Main, took down the Muddy Cup name last fall. After a brief flirtation with the name "Drama Cup," it's now Tierra Coffee Roasters.
The name echoes the fact that their coffee is from Tierra Farm, a Valatie operation that roasts Fair Trade coffees. It's catchier than "that place that used to be the Muddy Cup." Shorter, too.
The Muddy Cup had a dusty bohemian vibe. As Tierra, it's been spiffed up with a new coat of paint and art by Samson Contompasis.
And with Proctors Theatre taking over the Muddy Cup in Schenectady, the Hudson Valley chain's local presence is no more.
Muddy Cup opened the Proctors lobby cafe in 2006.
Proctors' plan is to run the Schenectady place itself. From their press release:
"At Proctors request, Muddy Cup transferred operations and all equipment back to Proctors. Proctors will rebrand the location for business with a fresh look and a new name before the start of next Sunday's Green Market in the lobby of Proctors State Street complex."
Update: The location at Proctors will be called the Apostrophe Cafe. [Marv Cermak]
Hi there. Comments have been closed for this item. Still have something to say? Contact us.