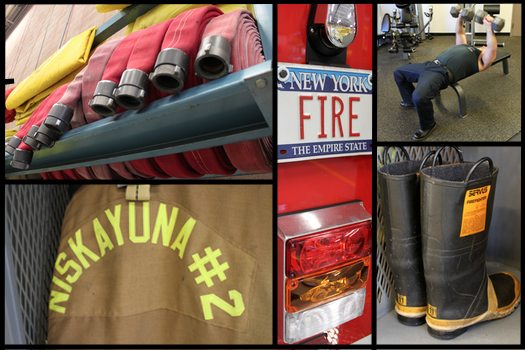 By Liz Clancy Lerner
On Tuesday night a fire broke out at a home on Mohawk Road in Niskayuna. Fortunately no one was hurt, but the fire required 35 firefighters and five trucks to fight. Many of those working on the fire were volunteer firefighters, people with full-time jobs that don't involve fighting fires.
Outside of the Capital Region's cities, volunteers provide much of the fire coverage. The number of volunteer fire departments here is quite substantial: Albany County has 41, Rensselaer has 49, Schenectady has 22 and Saratoga has 45.

So, why does the Capital Region have so many volunteer departments? What kind of training is required to become a volunteer firefighter? And, how many fires do these departments end up fighting?
I spoke with a fire district chief and a volunteer firefighter to find out how it works...
Sean Muldowney has been the chief of the Niskayuna Fire District 2 for a year, and has been with the district for 14 years.

Why does Niskayuna have a volunteer fire district?

They volunteer fire department was established in 1942. Usually fire departments start out as volunteer and if the call volume gets too high they may hire paid firefighters.

Number of calls is the main reason. Most paid departments run a larger number of calls. Also -- I find it here -- when I first moved up from NYC and I got to know the community a lot better. If I didn't join here I probably wouldn't know any of the people in Niskayuna other than the ones I saw at my children's school events ... it's a good social environment. You get to know the community.

What happens when there is a call?

A typical response time for our department is 3-4 minutes. The three chiefs each have a district vehicle that allows us to rapidly respond and assess the situation and needs. Through weekly department training, New York State courses and courses at the New York State Fire Academy, our members are highly trained and provide excellent care and service.

The funding comes from taxes, does that cover everything?

The funding for the equipment and everything is taxpayers. We do a fundraiser during the year and that's for social expenses. Because we have the district and the company and it's two different entities. The district is the firefighting, the EMS and the rescue and the gear, all our tools, the building. The company is a social aspect: the dinners, the clambakes, the potato chips, the coffee, the soda.

Is that good incentive for people, the social aspect?

There are a lot of benefits, we have an exercise room which the members use. This allows our members the opportunity to stay fit and promote wellness within the department. As an added benefit, the members' spouses are allowed to use the exercise plan.
Most people do it for the camaraderie and the fact that you are helping people.

What does it take to become a volunteer firefighter?

People can just walk in and get an application. We do an interview and an arson check and go from there. We meet every Monday night for training. There are two paths: "firefighter one" or "EMT." The new people go on a 6 month probation while they learn rescue and medical skills. All the classes are paid for. We want everyone to go on everything. They need to know what they're doing at a car accident and at a fire, etc.

How many volunteers do you currently have?

About 40 volunteers right now.

How many calls for fires do you get?

We are fortunate that we have very few fires. 70 percent are medical, 15 percent are rescue and the rest are fire.

How many calls do you get during a typical year?

It really varies -- we have gone a few days with no calls before and I've looked down at my pager to make sure it's working and then there are days where it's non-stop. Probably on average we have about 650 calls a year.

What's the back up plan? What happens if no volunteers can come to a fire?

There is a thing called mutual aid -- a call will go out and other fire departments will help us.

Why do you do it?

You're part of a community and you're helping others. It's great.
____
Katie Keller is a 23 year old volunteer firefighter with the Scotia fire district (they have about 30 volunteers). She has been volunteering for 2.5 years.

What attracted you to volunteer firefighting?

I'm a 4th or 5th generation firefighter. My mom is a paid firefighter at Albany Airport and she really inspires me. My dad is the chief at Scotia and my step-dad is a firefighter -- it's been a big part of my life.

Why do you do it?

The number of volunteers in general in this country is dwindling. If you don't do it, who's going to? You need to take care of your neighbors.

It becomes a part of who you are. You get to know everyone from cops to town workers to the highway department. I work for Mohawk Ambulance, so this type of work is my passion.

What kind of training did you have to go through?

I went through Firefighter One [a training course]. It was physically demanding -- you have to do everything the guys do, from car fires to structure fires. It was about 3 months long. I'm 4'11", but I was able to keep up.

Can you tell me more about the physical challenges of training and responding to calls?

Hose advancement is a challenge. You have to be able to hold on to a nozzle with 100 [pound per square inch of pressure] going through the line, but there is a person behind you to back you up. The thing is, you will always have someone with you. It is a team effort.

Are there mental challenges, too?

Well, people don't call you because they want to. They call you because they need to. If I can help calm down a mother and make family members more comfortable during a call, I've succeeded.

What would you say to another woman who wants to volunteer, but may be intimidated by the whole thing?

You can do anything a guy can do, if not better.

It's hard work, but so much fun. You get to learn the science behind a fire and most importantly, you get to help people.
Say Something!
We'd really like you to take part in the conversation here at All Over Albany. But we do have a few rules here. Don't worry, they're easy. The first: be kind. The second: treat everyone else with the same respect you'd like to see in return. Cool? Great, post away. Comments are moderated so it might take a little while for your comment to show up. Thanks for being patient.