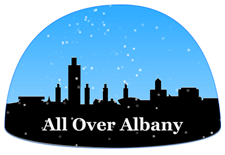 Our Monday was little feeling a little gray, but this has brightened things up a bit. It's an AOA online snow globe -- go ahead and check it out.
On some computers (Mac with Firefox), you can actually make the snow globe "tilt" by tilting your laptop side to side. In other browsers, you can direct the snow with your mouse.
We've been keeping this open in a tab and switching to it every hour or so. It's made the day pass a little faster.
Hi there. Comments have been closed for this item. Still have something to say? Contact us.