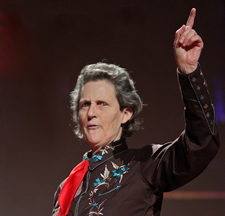 Animal scientists Temple Grandin will be speaking at the Palace May 4. Tickets go on sale this Friday, February 4. They're $12.
Grandin is a remarkable person. She's on the autism spectrum and says her ability to "think in pictures" has allowed her to have a unique understanding of how animals negotiate livestock handling systems. Almost half of the cattle in this country are now processed in facilities based on her designs, which have been hailed as being more humane because they lower the stress levels of the animals.
In more recent years, Grandin has become an advocate for people on the autism spectrum. A movie starring Claire Danes last year chronicled Grandin's struggle to find her place in the world as non-neurotypical person (the movie is pretty good).
The Palace advertises on AOA.
photo: Flickr user jurvetson