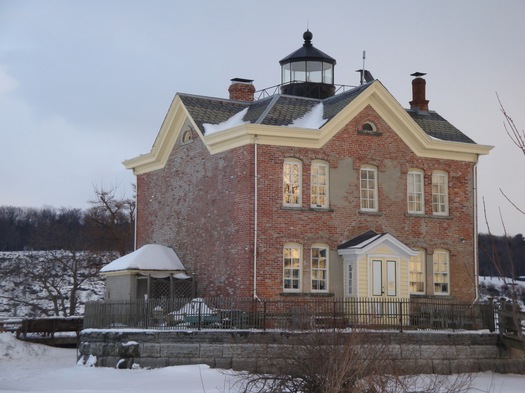 By Akum Norder

Open the middle door to find a set of stairs. Ascend. Then climb the blue wooden ladder. Lift the heavy metal trapdoor and -- you're swimming in slanting winter sunlight.
Up in the tower of the Saugerties Lighthouse, my husband and I were grinning like kids. A lighthouse tower! With no tour guide or line of other visitors waiting their turn. Sheltered from the wind, we were free to watch the light play on the Hudson River's mosaic of ice for as long as we wanted. We spent an hour up there, eating pears and drinking in a 360-degree view of winter as the sun sank behind the Catskills.
The Saugerties Lighthouse is a landmark from another time. The historic -- and still active -- lighthouse is also a bed and breakfast. And the fact that you can't reach it by car makes it all the more an adventure.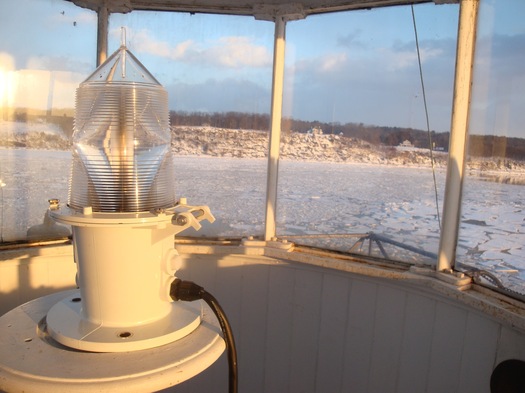 There was a time when little Saugerties, about an hour south of Albany, was a bustling port on the Hudson River. It was in an active industrial area, and as a landing place for people heading into the Catskills, Saugerties was also a busy passenger port. There's been a lighthouse here since the 1830s, to guide ships past the shallows and into Esopus Creek.
Built on an artificial island, the current lighthouse dates from 1869. It's not a tall, round structure like a child's drawing of a lighthouse; instead, it's a red-brick home with a tower attached. The keeper and his (or her -- two 19th-century keepers were women) family would live in the home and keep the light burning above.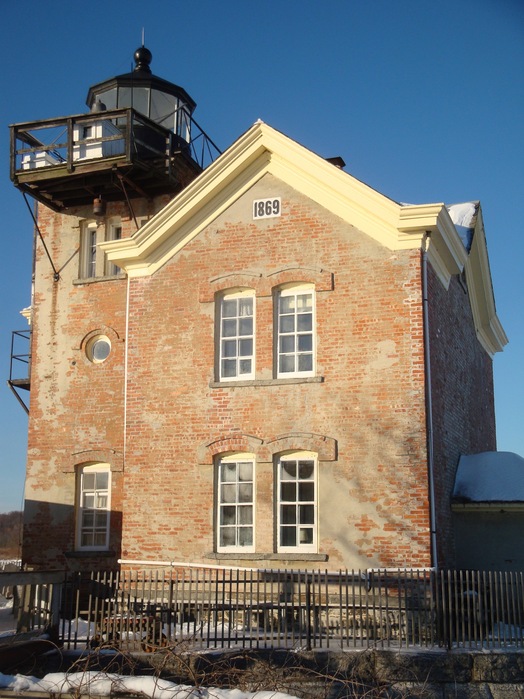 Even though it's no longer on an island (a jetty was constructed in 1888), you can't take your car to the Saugerties Lighthouse. Visitors come in by boat or on a half-mile trail that runs through woods and marshes.
The trail and grounds of the lighthouse are open to the public till dusk, and despite the cold there were a dozen or more people out last Sunday afternoon to photograph the local landmark and enjoy the view.
My husband and I donned backpacks and came in on skis, carrying what we'd need for an overnight stay. The trail was pleasant, icy and fast, though we hadn't realized how warm the woods were keeping us until the path reached the shore -- and then the wind off the river nearly took our breath away.
A snug harbor, however, was just around the bend.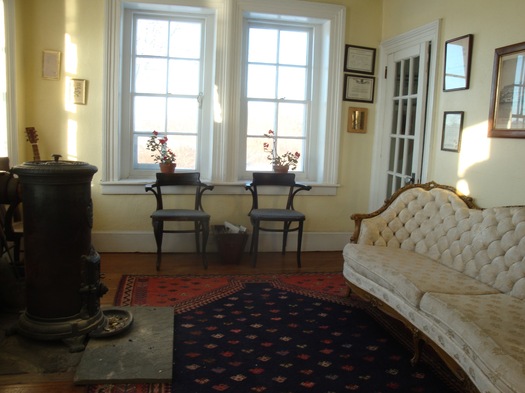 The lighthouse has just two guest rooms upstairs, which share a first-floor bathroom. The place is refreshingly under-decorated. Too many B&B's pile on the doilies and the tapestry throw pillows; the lighthouse is almost spare by comparison.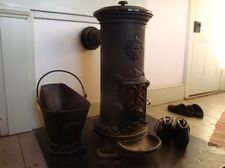 Adding to the sense that we'd stepped one foot into another era: The bedrooms and parlor are heated by coal stoves. On our arrival the lighthouse keeper showed us how to fill our stove with a shovelful of coal from the scuttle. Call me a product of the Industrial Age: I like the smell of a coal fire. It's dry heat, but plenty warm.
The place operates with an eye to conservation: It has an on-demand water heater, and guests are asked to leave high-electricity items like hair dryers at home. The bathroom contains a composting toilet. Around the lighthouse, doors are left closed to keep the heat in the rooms where it's needed, not in unused spaces or in hallways. The rooms have no televisions or radios, but there is a WiFi signal. We even got cellphone reception.
Since getting to a restaurant would mean a hike into town (and back again, in the dark), we brought homemade soup for dinner and warmed it on the kitchen's old gas range. With some bread, a bottle of wine, and a warm house on the river's edge, we felt as cozy as anyone need ever be.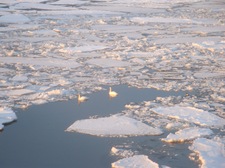 And then there was the lighthouse tower.
Before bed, of course, we had to go back up there. (Why? Well, because we could.)
Surprise: When you go in a lighthouse tower room at night, it's really bright. Then it's dark. Then it's bright. And so on. You'd think a light bright enough to be seen for five nautical miles would fry your retinas. But really, it wasn't uncomfortable. The tower was a dreamlike world that flashed from bright to black every few seconds. As soon as our eyes adjusted to the stars, they were gone again.
In the morning, before breakfast, we visited the little museum room, with photographs and artifacts from the lighthouse's past.
The light had been automated in 1954 and the building boarded up. Rainwater and time did their damage, and by the time preservationists secured ownership of the lighthouse from the Coast Guard in the 1980s, it looked like two well-placed kicks could have brought the whole building down.
I watched the museum's documentary film with my mouth hanging open. The place had been a wreck. It seems so solid, so permanent. And it had almost been lost.
It means something to me that places like this be saved. It's more than just a window into New York's past. It's an island of solitude and calm.
We need places like that.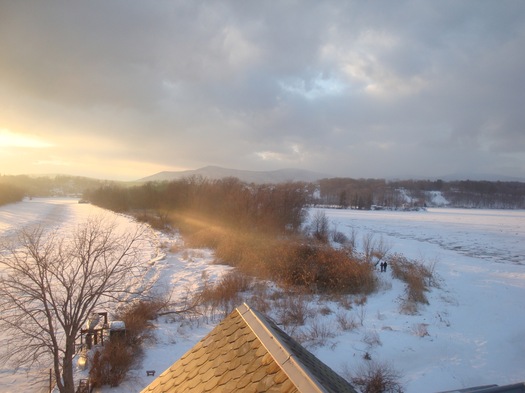 ......................
The Saugerties Lighthouse is open Thursday through Sunday nights year-round as a bed and breakfast. Reservations fill up months in advance, but it's worth glimpsing at their availability calendar to see what cancellations may have come in.
At $200 a night, it isn't cheap. But the money goes to help maintain and preserve the lighthouse.
In downtown Saugerties it's easy to spend a few hours browsing the independent gift shops or looking for antiques. The village boasts some notable restaurants, including Ric Orlando's New World Home Cooking and the delightful Miss Lucy's Kitchen.
Find It
Saugerties Lighthouse
168 Lighthouse Drive
Saugerties, NY 12477
Hi there. Comments have been closed for this item. Still have something to say? Contact us.