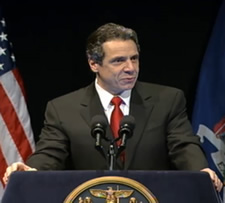 To much fanfare (and powerpoint) Andrew Cuomo presented his proposed state budget yesterday.
During the presentation he described the state as "functionally bankrupt," and remarked that he viewed his dental appointments for root canal as a welcome respite from the budget process. So, that gives you a sense of where the state's at.
We've read a bunch of the details and coverage of the budget so you don't have to. Let's get to it...
Budget highlights
+ All funds spending (state money + federal money + some capital projects) in the budget is $132.9 billion -- that's down 2.3 percent from last year.
+ State operating funding (just state money) is $88.1 billion -- that's up one percent from last year (the state is losing about $5 billion in federal stimulus money). [AP/Troy Record]
+ The budget includes projected state workforce savings of $450 million -- either through concessions from unions, or as many as 9,800 layoffs. [TU]
+ The proposed budget includes a 2 percent reduction in overall spending on Medicaid (as well as a proposal to link future increases to medical care component of the CPI). Cuomo is hoping a panel can identify innovative ways to make cuts in the program. [NYT]
+ Education aid is reduce by about 7 percent (as opposed to the 13 percent increase called for under existing funding formulas). A few local examples: the Albany school district is in line to lose about $4.3 million in funding and the Schenectady school district about $7.1 million. Cuomo called for school districts cover cuts by tapping reserves, getting concessions from unions and cutting administrators' pay. [NYS DOB] [Daily Gazette]
+ Operating aid to the SUNY, CUNY and community colleges is cut by 10 percent. There is no planned tuition increase. There is no change in TAP. [AP/Troy Record]
+ Aid to local governments is cut 2 percent. That means both Albany and Troy will each be losing more than $250k in aid. [Troy Record]
+ The budget does not cut funding to the Environmental Protection Fund.
+ Said Cuomo of the budget process: "It's going to be hard. I get that. You're going to hear it. You're going to feel it. This is going to enflame the Albany establishment, the lobbyists are going to be running around the hallways like their hair is on fire." [TU]
Cuomo admin press release | here's the whole budget package
Reaction
The other two men in the room
+ Sheldon Silver: ""We will examine everything the governor proposed and make a determination with how we deal with it. I think, clearly, we have a lot of things we have to look at." And
"[The frustration with the State of New York] goes far beyond the legislature." (Cuomo presentation had blamed the legislature for many of the state's fiscal problems.) [NYDN] [State of Politics]
+ Dean Skelos: "I applaud Governor Cuomo for keeping his commitments to reduce spending and to not raise taxes. The state simply cannot continue to put off the spending reductions that are necessary to close the deficit. All levels of government need to understand that they have to do more with less."
Up
+ State Senator Betty Little: "I think he actually offered the Legislature the chance to become involved and collaborate with him on the specifics of reaching these goals." [Post-Star]
+ Brian Stratton: "I think the governor has set a wise course. ... I don't like to get [Schenectady's] state aid cut, but I'm a realist." [Daily Gazette]
+ The Business Council of New York State (its CEO was recently named head of the state's economic development arm): "Gov. Andrew Cuomo is proposing a budget that finally addresses the need to reduce government spending and put New York on the road to recovery."
Down
+ Assemblyman Ron Canestrari: "I don't like what I've heard. Not unexpected. We know there's some problems, but my biggest concerns are for the state workforce. I don't know how this works. Hopefully the savings can be realized to the tune of $450 million to avoid layoffs. I just don't know how that comes about." [Fox23]
+ CSEA: "There is nothing fair nor shared in the proposed state budget. ... We are not willing to see the necessary services that CSEA members provide to people in every community in the state used as a bargaining chip to maintain tax breaks for millionaires."
+ PEF: "The State Executive Budget proposal would cripple public services without asking any sacrifice from businesses, corporations and the millionaires and billionaires responsible for the economic crisis."
Maybe
+ Hugh Farley: "We are looking early at a large document. The devil is in details, and we do not have enough details." [Daily Gazette]
+ Harry Tutunjian: "I applaud [Cuomo's] effort at making these decisions but [aid to cities] money is used to provide tax relief by offsetting increases in other costs, like our pension bills, that rise annually. My fear is that AIM cuts will come to bear on local governments like Troy, who will have no recourse to pass the decrease in aid on to the city's taxpayers." [Troy Record]
Healthcare
+ The Health Association of New York State, a hospital lobby: "It will require alchemists, not policy wonks or providers, to transform cuts of this magnitude into gold."
+ Iroquois Healthcare Alliance, an upstate hospital and nursing home lobby: "If [the cuts in Medicaid are] not modified by the Governor's Medicaid Redesign Team or by the State Legislature, hospitals and nursing homes in Upstate New York will be forced to eliminate services and layoff staff."
Education
+ SUNY chancellor Nancy Zimpher: "Governor Cuomo laid out an ambitious plan to address the root cause of our State's fiscal problems, and he deserves credit for his effort to make New York live within its means. ... [W]e remain deeply concerned about our mounting fiscal challenges and how they will impact our ability to provide a quality experience and education for our students."
+ The Alliance for Quality Education: "Governor Cuomo's budget pulls the rug out on children's education by cutting literacy programs, career and technical education, college prep, pre-K, arts, music, sports, tutoring, guidance counselors and school librarians."
+ The Shen schools superintendent (would lose $6.2 in funding): "If this proposal goes through, it will be the worst we've ever seen. ... They force us to be after-the-fact reactive, which is not the way to do anything well." [TU]
+ Watervliet schools superintendent (would lose $2.1 million): "We rely so heavily on state aid. You can't make up $1 million in cuts with paper clips and pencils. ... You make up for that with teachers." [Troy Record]
Environment
+ Environmental Advocates: "Rather than balancing the state budget on the backs of New York's environment, the Governor chose to invest in a cleaner, greener New York."
On Cuomo
+ TU editorial: "For too long, New York has been an overachiever when it comes to spending. At last, Governor Cuomo has dared to lower the bar."
+ Buffalo News editorial: "[Cuomo's budget] was exactly the right signal for a state that has consistently operated as if it could circumvent the laws of economics -- which dictate spending no more than you take in -- by simply taking in more money."

+ Fred LeBrun: "Here I was convinced that with [Cuomo's] first budget message, there was no way he could wiggle out of finally giving us a whole lot of unpleasant specifics related to his plans for massively reducing state government. But wiggle out of it he most certainly did, and quite elegantly." [TU]
Odds and ends
+ The Cuomo budget includes a 2.75 percent surcharge on horse racing purses, to fund regulation of the industry. The president of the New York Thoroughbred Horsemen's Association called the surcharge as "a slap in the face." [Saratogian] [Blood Horse]
+ The budget includes a reauthorization of funding for the Albany Convention Center Authority. [TU]
+ The budget does not include a provision for allowing the sale of wine in supermarkets. [Table Hopping]
+ Funding to The Egg was cut by 10 percent. [TU]
screengrab: LiveStream - newyorkstateofficeofthegovernor
Hi there. Comments have been closed for this item. Still have something to say? Contact us.