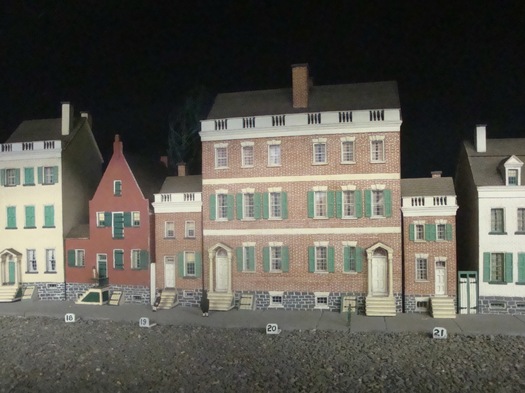 By Akum Norder
A history-minded person might wonder, "So what was North Pearl Street like in, say, 1800?"
An industrious researcher might use old documents to make a chart showing who lived where.
Paul Schrodt wondered, then researched, then built detailed miniatures of every building and labeled them with information on how the building was used in that era -- what items were sold there, who lived there, details of that person's history.
Schrodt did eight miniature models of Albany buildings and streetscapes. They took him 36 years.
Here at AOA we love things that are 1.) odd, 2.) delightful, and 3.) local. With Schrodt's models -- housed in the Albany Heritage Area Visitors Center -- we hit the trifecta.
Schrodt created his models from the 1930s into the 1950s. They certainly have a historical interest -- they can help us imagine our city as it once was -- but their main attraction is just how darn cool they are. They're so little! And so detailed! And so ... Albany!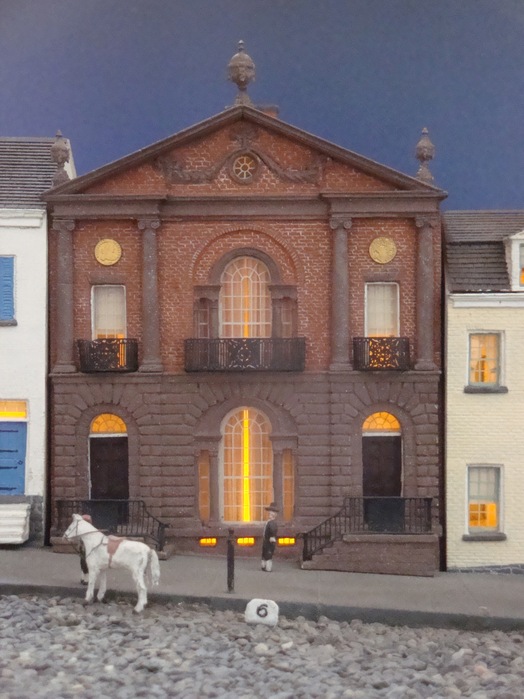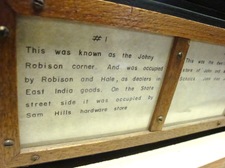 They're a walk down 200-year-old streets, at a scale of 1/8 inch = 1 foot. They have tiny shutters, individual bricks, and weathervanes. And they come with notes: This building was a bookstore. This one, the home of a trader wounded in an Indian attack.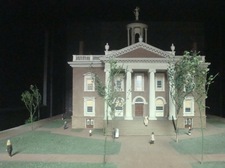 Schrodt built lost landmarks, too: larger models of prominent buildings, such as the old state Capitol and the former City Hall. And he also created a three-dimensional map of Albany in 1695, on a much smaller scale. A nearby notebook details the story of each building.
A 1986 Times Union article reveals a little of the man behind them.
Schrodt was an Albany carpenter. When looking for work during the Depression, he had tried to convince architects to include models with their proposals, to show potential clients something more than blueprints. They turned him down. But for Schrodt, the idea of making models stuck.
A miniature Albany grew in the family basement. The buildings were wired to hold lights, and Schrodt built special display cases for them. A photographer friend made background murals for the cases.
Schrodt's son described Albany schoolteachers bringing their entire classes into his basement to view the models. Some of his streets were exhibited at the 1939 World's Fair.
The TU article describes a little of Schrodt's intricate processes:
"If he needed materials not available, he improvised. For brick or stone buildings he first painted the wood white. Then he ground brick or stone into dust and, while the paint was still tacky, applied the dust. Finally, with a stylus, he scraped away the brick and stone dust so that the underpaint was revealed as mortar. This created the appearance of a brick or stone facade."
Schrodt died in the 1960s.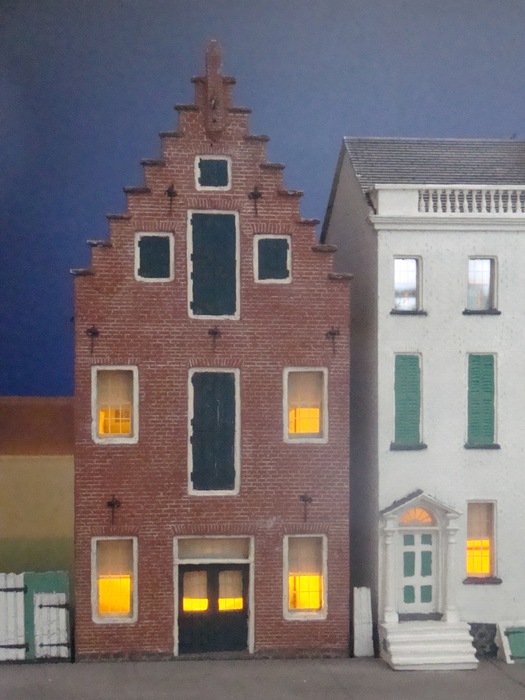 The Visitors Center is certainly a more convenient place to see the models than the Schrodt family basement. But not all the models are, at the moment, easy to view. Some have other exhibit cases stacked in front of them.
Over the past few years, the museum has been placing Schrodt's models into modern display cases and rewiring them with LED lighting. The first, the 1695 layout of Albany as a stockade town, received its new case in 2007. Last year the first of his streetscapes got a new case, and it's been relocated to the museum's entry hall.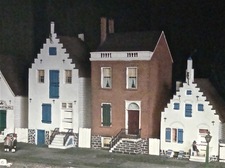 Though the buildings in Schrodt's models are almost all gone, there's still something familiar in these streets: The stoops. Houses built cheek-by-jowl. The steep gables that we know now mostly from reproduction Dutch architecture. But one question certainly comes to mind: As representations of Albany's past, how accurate are they?
Apparently, they're very good. Schrodt was able to model some buildings from photographs. For others, he worked from the drawings of James Eights, an early 19th-century scientist, surveyor, and artist who's an interesting story in his own right. (A coast of Antarctica is named after him.) Eights' paintings and sketches of Albany were based on research and memory. The state museum's Colonial Albany Project lauds their accuracy, calling them "consistent with manuscript maps, written sources, and later photographs."
Of all the buildings Schrodt modeled, only one still stands -- and that, only as a facade. It's Philip Hooker's 1803 bank on State Street. The rest of that prominent architect's building was razed in 1927 to make room for a larger bank, but the facade was incorporated into the new building.
To a history geek, stepping into Schrodt's tiny world is awe-inspiring. The streetscapes' intricacy reveals how much time and effort they took, both in research and in careful artistry. These models are a love letter to Albany.
Find It
Albany Heritage Area Visitors Center
25 Quackenbush Square
Albany, NY 12207
Hi there. Comments have been closed for this item. Still have something to say? Contact us.