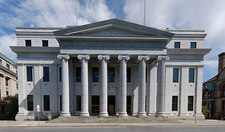 A few lessons we took away from today's New York State Court of Appeals decision in the case of The People v. Tony Weaver:
You can get arrested for disorderly conduct if your jerkish behavior is not bothering anyone other than your newlywed wife.
The fact that it's your wedding night does not earn you a free pass from the cops for being a jerk.
Telling an officer to "shut the f--- up" because she's not your mother -- probably not a good idea.
Being clothed in formal wear will not prevent you from being tased.
Do you really want your wedding album to include a mug shot?
All noted. Good to see that the state's highest court has cleared that up.
Earlier on AOA: Broken engagement -- who gets the ring in New York State?
photo: Flickr user wadester16
Hi there. Comments have been closed for this item. Still have something to say? Contact us.