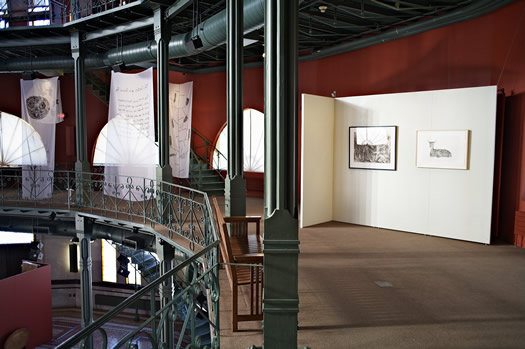 By Bennett V Campbell
The Nott Memorial at Union College is itself a work of art. If the dramatic circular structure, slate dome, and large windows letting natural light pour in from all sides aren't enough, the second floor hosts the Mandeville Gallery. And the current exhibition is worth checking out.
"Of Weeds and Wildness: Nature in Black & White" brings together 17 nationally and internationally recognized artists working in a variety of media. Kara Jefts, the gallery's interim director, was kind enough to give me an impromptu tour, fielding a few questions about the exhibit itself and the Nott Memorial in general.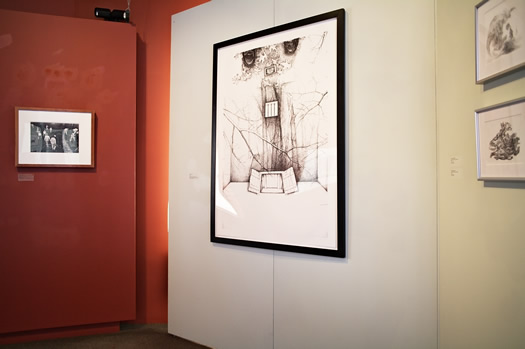 What's the concept behind "Of Weeds and Wildness"?
The show was curated by Sally Apfelbaum (artist, educator, and curator from Bennington) and Rachel Seligman (director of the gallery), and is based on Louise Bourgeois' "Hairy Spider," a recurring element in her printmaking and sculpture.
It's supposed to represent her mother, and embodies a kind of duality between nature and humanity. The other works and artists were also chosen for their understanding of nature, humanity, and the relationships between them.
Why the decision to include only black and white work?
It's an exploration of how expressive black and white can be in the various media, to emphasize natural form. I wouldn't say that emphasis doesn't exist in color but being limited to black and white really pushes the form and rewards time spent as a viewer with individual pieces.
For example, you'll see pieces that combine etching and aquatint with an amazing level of attention to detail if you look closely. If you check out the work of Arnold Bittleman, a largely unknown master of drawing and printmaking, you can focus on details until they almost disappear, then step back and make out abstractions of bone structure or feathers.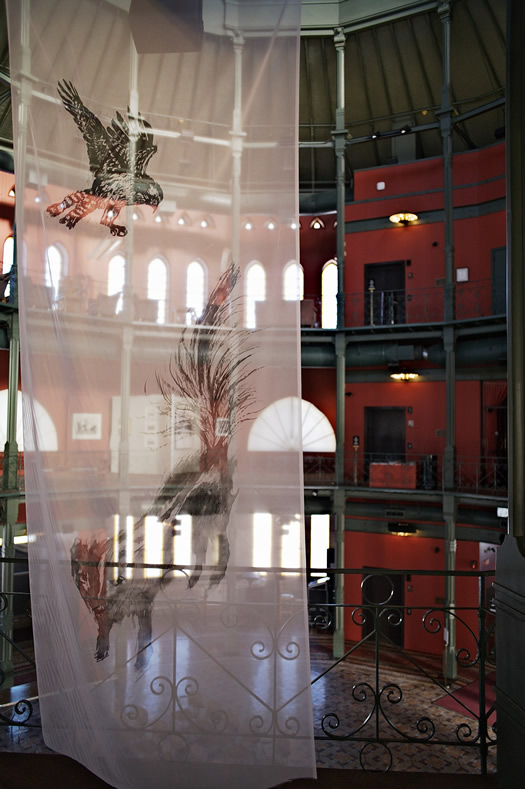 The large hanging sheets seem to be the most significant pieces in the show, and seem really well suited to the gallery.
Those are screenprints from Desirée Alvares, she calls them simply "screens." They have animals that she's had personal experiences with. She lives in New York and has a dog she takes hiking adventures with.
The screens move, they flutter, they have a kind of life to them. After we hung them we had several reports the next day that they were actually setting off the motion sensors.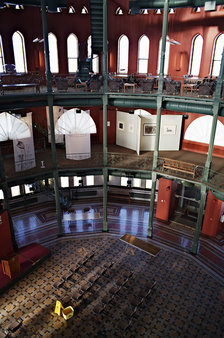 The Nott Memorial is a beautiful building itself, how did it come to include the gallery?
It's taken on many different forms, but it was originally an alumni hall. The second and third floors had plaster casts of classical sculptures like the Venus de Milo -- and who knows where those things are now, it's really sad. Around the turn of the century the college got a Carnegie grant to turn [the building] into a library, and after the Schaffer Library was built, it was a theater in the round. After that, the building fell into disrepair, and after a large chunk fell off of the outside, it was renovated. And now the Mandeville Gallery is on the second floor and study space for students on the third.
How do you feel about the exhibit space?
It's a challenging space, it's round and awkward, and the lighting is a huge issue. Some of the work is very delicate so the light has to be filtered to protect it. We sometimes have to put pieces in cases and cover and uncover them for shows. Because the space itself is so breathtaking there's always the possibility that a show will have to fight for attention, but we've been fortunate that everything we've exhibited has worked in harmony with the Nott itself.
What should someone who doesn't know what to expect, or maybe doesn't know too much about art, really pay attention to in this show?
Aside from the show as a whole, I guess really focus on the details. I think the pieces themselves are all beautiful objects and can be appreciated as representations of nature, but if you slow down and spend time with them and look at the detail, it brings out the meaning beyond the obvious.
In general, my recommendation is to view art slowly.
____
"Of Weeds and Wildness: Nature in Black & White" is on display through March 13. There's a reception and gallery talk with several of the artists tonight (February 10) from 5-7 pm.
The Nott Memorial is free and open to the public daily from 10 am to 6 pm. While you're there, you might want to stop at the visual arts building, too. It's currently hosting three exhibits: "Echolilia," by Timothy Archibald; "Union Faces" by Union College student Clarissa Amaral, and "Self Evidence" by Raymond Felix, who teaches at the University at Albany. The visual arts building galleries are free and open to the public Monday through Friday from 9 am to 6 pm.
Find It
Mandeville Gallery at the Nott Memorial
Union College
Schenectady, NY 12308
Hi there. Comments have been closed for this item. Still have something to say? Contact us.