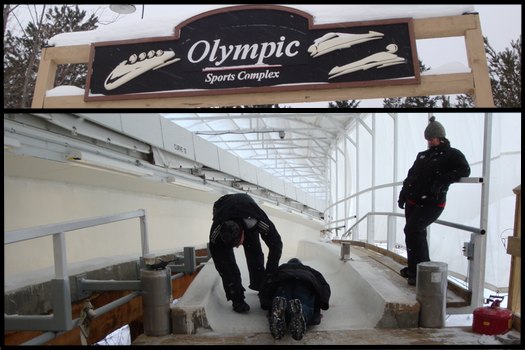 By Liz Clancy Lerner
When I was in middle school I would watch my sister's high school Varsity soccer games with my cleats and shin guards in a bag nearby. I'd often fantasize that her team would be down a player and look to the crowd for help. I would be the one they chose, I'd play my heart out, and score the winning goal.
And then, of course, I'd be a starter for the high school team as a 7th grader and go on to the Olympics after that.
Flash forward to the 2006 Winter Olympics: I watch the track events religiously on TV. I proclaim to friends and family that I want to be a skeleton slider (it's the belly-down, head-first, single-person sled race).
But I never had the opportunity to try it -- until this past weekend when I went down the skeleton track in Lake Placid.
This was my chance to be discovered.
The combined track (where bobsled, skeleton and luge race) is located at Mt. Van Hoevenberg -- just a short drive from downtown Lake Placid.
We had reservations to try the skeleton at 9:30 am, so we got there a little early. Once we checked in, we headed upstairs to watch other people race the skeleton through two flat-screen TVs. There were at least 5 camera angles that follow you down the track, making every bump and slide potentially really embarrassing.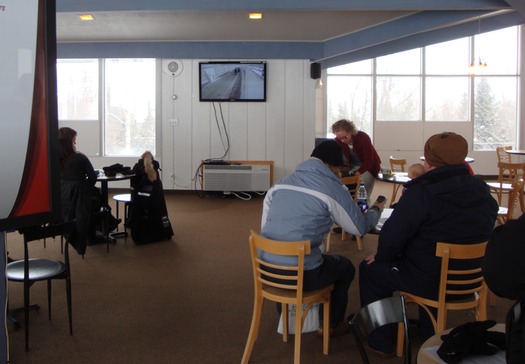 When your number is called, you head outside to a black Chevy Suburban and get a lift up to the track. Things move pretty quickly from there.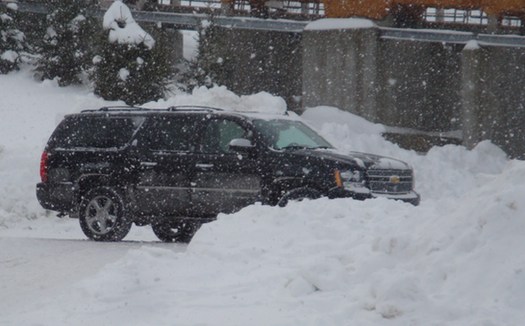 You get a helmet, a photo with your sled and a very brief instructional. No safety talk and no discussion of what to do if you fall off the sled (and, alas, nothing about this being a recruiting event for Sochi 2014).
What I did learn from the friendly skeleton guy is that your body should be stream-lined -- but relaxed, with your feet down (but not touching the track), head also should be facing down, and you should look into turns. Got it.
I got my game face on and and laid on the sled stomach first. I was ready for the push. (In Olympic skeleton races you take a running start to propel yourself. This way, I assume, is safer for beginners.)
The whole thing lasted 35.4 seconds and I don't remember much other than smiling hugely, hearing the metal of the sled loudly sliding along the ice, and thinking, stay stream-lined, but relaxed... stay stream-lined, but relaxed.
Apparently, at this length, you go about 30 miles per hour. It certainly felt faster than the 30 mph in my car.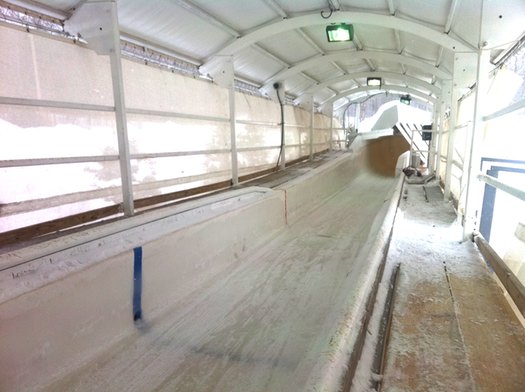 At the finish line I got off the sled and was assisted down the track about ten feet to a side area. This is where they were going to tell me I was a natural and they want me to train full-time for the Olympics.
They told me I could get a good view from here to see my husband come down the track.

Sensing that we're competitive people, the skeleton wrangler -- as I affectionately refer to the guys at the finish line -- gave me a wink and a nod and told me what I was going to win. And I *miraculously* did, by .2 seconds.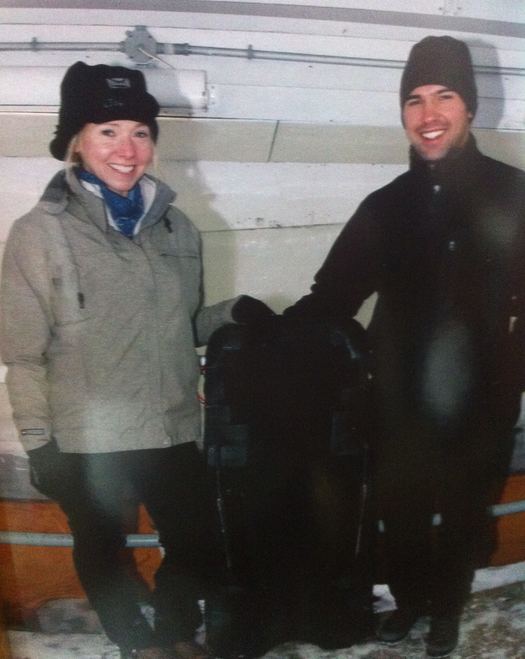 I'm still waiting on my invite to the Olympic training camp.
If you plan on going: Tickets to try the skeleton are $65 and it's recommended that you call or email to get your tickets. Along with the skeleton ride, you get a t-shirt, a pin, a photo and a one-year membership with the U.S. Bobsled and Skeleton Federation.
There were people there of all ages, sizes and athletic abilities. If you are comfortable on a sled, I'd say you'd be fine for this.
Hi there. Comments have been closed for this item. Still have something to say? Contact us.