By Katie Beltramo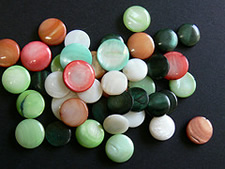 Alright, this weather's getting tiresome. With no end of wintry mixes in sight, even those of us who try to embrace winter start to feel a bit like caged animals.
One antidote to cabin fever is to get your craft on. You'll get out of the house and make something fun. It beats cozying up to a big bowl of chips in front of the television.
Because you probably already did that on Sunday.
All of these places have crafty classes coming up in February and March:
Trumpet Hill on New Karner Road has a variety of knitting and crocheting classes focusing on specific topics, and they'll tutor you one-on-one if you're a beginner.

Bumble Beads in Latham has jewelry-making classes including beading, wire wrapping, and more. They've just added a fragrance blending bar, so you can make your own scent and put it in some moisturizer (we're a little obsessed with moisturizing here at AOA).
Sewing Sisters on Central Avenue has a wide variety of sewing classes, many of which meet once to make one item. They also do a drop-in Happy Hour every other Thursday: it's $10 for a simple, surprise craft, and they insist that "complete novices are totally welcome."

The Arts Center of the Capital Region in Troy has classes like "Drawing for the Absolutely Terrified" and plenty more drawing and painting classes coming up, as well as a wide array of jewelry-making classes, pottery, and much more.
The Albany Art Room has classes in painting, printmaking, pottery, and mosaics.

Schenectady County Community College has classes on basket weaving and creating digital photo books, among others.

Hudson Valley Community College has classes on knitting, tatting, paper crafts, drawing, water color, and more.
Chain stores offer classes, too. Michael's has several simple kids and adults "Make it and Take it" events, and JoAnn Fabric and Craft Stores has an extensive schedule of classes in sewing, knitting, scrapbooking, and jewelry-making. A.C. Moore offers candy-making, baking, and painting classes.

Has anyone ever taken any of these classes? Or do you have other crafty destinations to recommend? Please share!
Katie is the editor of Capital District Fun, a place to find things to do for kids and families in Schenectady, Albany, and Troy
photo: Flickr user Laineys Repertoire
Hi there. Comments have been closed for this item. Still have something to say? Contact us.