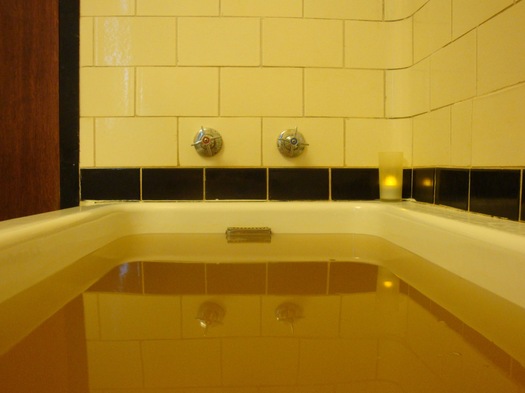 By Akum Norder
Soaking in a Saratoga mineral bath -- as local traditions go, it's one of the oldest.
Older than the annual state budget circus. Older even than complaining about unshoveled sidewalks.
It's why Saratoga's there, after all. The race course, the casino, the social scene -- all of it developed to give folks something to do while in town to visit the mineral water springs. But of course, the mineral springs' history goes back much farther than that: Native Americans knew about them for centuries.
Not one to miss out on a local tradition, I headed up for a soak at the Roosevelt Baths and Spa.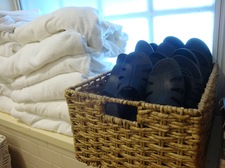 One of FDR's pet projects from back when he was New York's governor, the bath complex that bears his name was finished under the New Deal. The Roosevelt Baths, which in their modern iteration have been open since 2003, are not too clinical, not too precious. The space balances nicely between the needs of a modern spa and the original details of the building; they kept, for example, the 1930s wall tiles.
In addition to baths, they offer a range of other spa services. But for me, no. Not today.
I changed into a robe and slippers in the locker room and was led to a private bathing room, where a tub of brown water was waiting for me.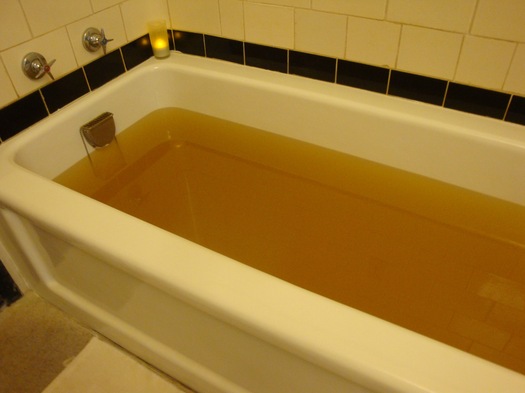 Yes, brown. The water looks rusty. My attendant explained that the mineral water comes out of the tap clear, and then darkens on exposure to air, as the iron in the water oxidizes. The mineral water is also quite cold when it comes from the tap; it's mixed with hot, fresh water to put the water at a bathing temperature of around 100 degrees.
The tub was deeper than I expected; the water came up to my neck. It was marvelous. Ahhh, to submerge. In water that doesn't cool off. With no children pounding on the door. Remember the "Calgon, take me away!" commercials? This is better.
This effervescent spring water makes you quite buoyant. I had to work to stay submerged. Little bubbles fizzed on the water's surface as if it was champagne.
I could have brought a magazine to read. Instead, I reclined and practiced doing nothing. It's something I'm not very good at.
The water was hot enough to soften my muscles and bring on a sheen of sweat. I could have done without the soothing music being piped in -- New Age instrumentals usually make me feel murderous -- but not even that could puncture my serenity. I breathed. I trailed my fingers through the water. I was somewhere near a doze when the knock on the door indicated my time was nearly up. The attendant left me a warm towel and retreated.
I emerged from the bath flushed and peaceful -- and, I was surprised to find, with very soft skin.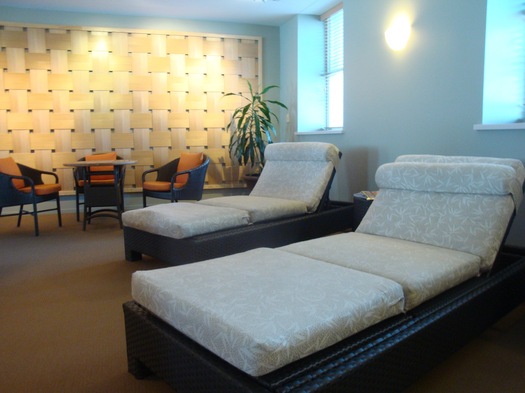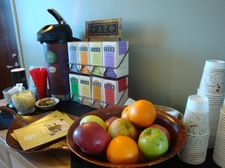 I retired to the lounge, where I could easily have fallen asleep on my chaise. The splashing of the water wall even drowned out the music. Tea, coffee, fruit, and water were available (Vermont Spring Water? In a Saratoga spa? That seems wrong somehow); I sipped some coffee before padding down the hall to spend a little time in the steam room.
In all, I was there for two hours. And I left feeling like I'd had a weekend off.
People have made health claims about these waters for centuries. I don't know anything about that. I do know that the bath forced me to lie still and quiet, and just be. And the benefits of that are tremendous.
____
Cost for a 40-minute bath: $25, plus a tip for the attendant. Use of the lounge and the steam room is included.
Find It
Roosevelt Baths and Spa
39 Roosevelt Drive
Saratoga Springs, NY 12866
Say Something!
We'd really like you to take part in the conversation here at All Over Albany. But we do have a few rules here. Don't worry, they're easy. The first: be kind. The second: treat everyone else with the same respect you'd like to see in return. Cool? Great, post away. Comments are moderated so it might take a little while for your comment to show up. Thanks for being patient.