By Akum Norder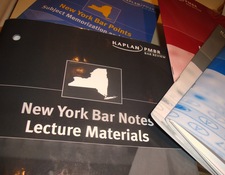 If you see a lot of stressed-out lawyer types around downtown Albany this week, carrying their personal belongings in clear zip-lock bags, there's a reason for that: The New York state bar exam is being administered today and tomorrow at the Empire State Plaza.
People come to Albany from all over the country and the world to take the New York bar. The state's exam has a reputation as one of the toughest -- if not the toughest -- in the country. As a test-taker said in the ABA Journal a few years ago, "If you've passed the New York bar exam, you can probably pass any other state bar." One lawyer noted that California's exam is longer, "but in substance, it was easier than New York."
More than 4,000 people took the test last February at sites across the state. First-time takers from ABA-approved schools passed the state bar exam at a rate of 80.5 percent. But the rate for all candidates -- domestic and foreign educated, first-time and repeat takers -- was 50 percent.
Good luck, guys.
Hi there. Comments have been closed for this item. Still have something to say? Contact us.