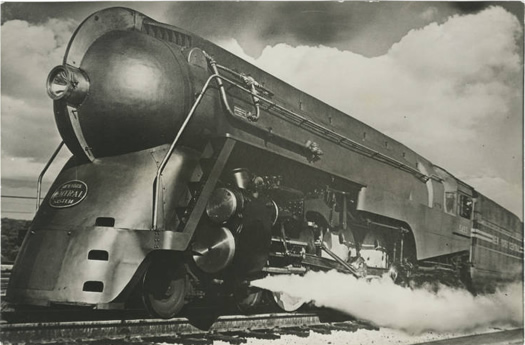 We came across this photo today while getting Carl's piece about the Livingston Ave Bridge together. It's a locomotive from the old New York Central railroad -- the railroad organized by Erastus Corning (the great grandfather of the longtime mayor of Albany).
We love the sleek vintage futurism of the locomotive's design. It looks like a rocket ship from an old Flash Gordon flick.
The engines were designed by Henry Dreyfuss, one of the celebrity industrial designers of the 1930s and 40s. Among Dreyfuss' many notable designs is the classic "Lucy" telephone.
This streamlined engine design (the "Hudson") went into service in 1938 after being manufactured in New York Central's huge West Albany yard (the engine under the hood was produced by Alco in Schenectady). The stylish locomotives powered the famous 20th Century Limited line.
If/when New York ever gets high-speed rail, we kind of hope the engines look this.
photo: Robert Yarnall Richie via Southern Methodist University, Central University Libraries, DeGolyer Library
Hi there. Comments have been closed for this item. Still have something to say? Contact us.