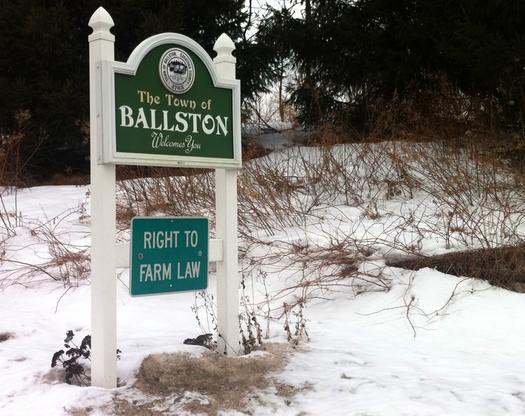 By Liz Clancy Lerner
So the other day I was heading down Route 50 near Ballston when I saw the sign above.
I'd never seen one before -- and I wondered what it meant. I asked around -- but no one else I checked with seemed to know either. So I did a little digging.
It turns out it's a concept that's been around for awhile, and it's meant to preserve rural character and give farmers rights when new development moves in.
It's likely enacted in a town near you.
Even if you don't live near a farm it's interesting and worth understanding.
The RTFL differs slightly from county to county, but it was created to show that community leaders understand the importance of local agriculture and its effect on the individuals, families, ecological value and economics of local towns.
The law gives farmers rights when complaints are made about the smell or noise coming from farm land.
The law was created 40 years ago when "mega farms" were being sued because of excessive noise, smell and pollution and many farms were shut down because of it. The Right to Farm Law was created to prevent this from happening again. Every state in the country now has some sort of right-to-farm-law.
Now RTFL often means individuals can't sue farmers over a "nuisance" if it results from "sound agricultural practice" (this is not actually defined in the NY state law; it's determined on a case-by-case basis). Also important, in some counties, individuals who are new to an area may have fewer rights than those who have lived there for awhile.
Albany County enacted the law in June, 2007. The county breaks up the statutes into eight categories and gets into detail about definitions and what makes a "sound agricultural practice."
+ A practice isn't a nuisance if it is "conducted in a manner which is not negligent or reckless" or if it is "reasonable and necessary to the particular farm or farm operation."
+ Disclosure must be given when a purchase and sale agreement is presented to a buyer or seller of land within 500 feet of agricultural land. The disclosure is a four-sentence notice that is added as an addendum to the purchase and sale agreement.
+There is a large section on resolution of disputes. Disputes can go through a resolution committee in an attempt to resolve any issues before the filing of any court action. But, the conflict must be presented to the committee within 30 days of the controversy happening.

According to the USDA Atlas of Rural and Small Town America we have a pretty significant number of farms in our counties, which may explain why some of them have enacted their own right-to-farm statutes (these are 2007 numbers):
Albany - 498
Saratoga - 641
Schenectady - 194
Rensselaer - 506
If you're looking for more info, check out the National Law Center or at The Farmland Information Center.

Hi there. Comments have been closed for this item. Still have something to say? Contact us.