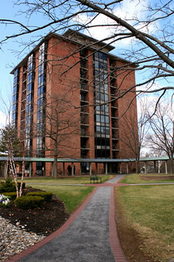 Worth a few smiles: Skidmore makes an appearance in The Onion this week. From "ExxonMobil CEO Really Hurt That College Student Is Talking About Him Right Now":
IRVING, TX--According to sources within ExxonMobil's global headquarters, Rex W. Tillerson, the company's president, chairman, and CEO, was completely devastated Wednesday by what 18-year-old Skidmore College freshman Samantha Huestis was saying about him in her dorm room.
It seems he really took her comments about polar bears to heart.
Heh.
Update: Drew confirmed with Skidmore that Ms. Huestis is, in fact, fictional.
Tangent: Have you ever heard the This American Life segment about The Onion writers' room? It's great.