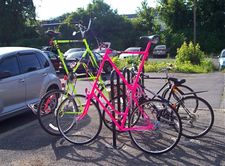 Michael DenDekker, a state Assemblyman from Queens, has introduced legislation that would require registration and license plates for personal bicycles (he's also introduced a separate bill for commercial bicycles that would require insurance coverage).
Registration would cost $25 for the first year, and $5 each year after.
Gothamist talked with DenDekker about the bills yesterday. From the interview:
I had various constituents contact me concerning bicyclists in the Woodside/Jackson Heights area that don't obey the traffic rules, that are driving down streets the wrong way, driving on sidewalks and actually being very reckless. And their concern is that when they do this there is no way to report them because there is no way to identify the bicyclists, per se, so that has been the reason for it. It's just natural now that we're investing so many resources into making this the new mode of transportation, which I'm all for, we're just going to need to regulate and register the bicycles so we know who everybody is who is sharing the road with us.
(Don't miss his thoughts on cameras for bike lanes.)
Under the "justification" section of DenDekker's bill, the Assemblyman argues that bike usage on streets has risen steeply (citing stats from two decades ago), and "... it is essential that the state of New York be able to identify the bicycle riders. The issuance of license plates will ensure personal protection for cases such as bicycle theft or bicycle accidents, to name a few."
A few municipalities around the country have tried mandatory bike registration laws -- with what appears to be limited success. Long Beach, California recently dropped its longstanding law, in part because of criticism after a bunch of cyclists were ticketed last fall during a critical mass ride.
Snarked Jim Tedisco today on his blog:
In the annals of bad bills, here's a real winner: a new bill from Assemblyman Michael DenDekker requiring license plates for bicycles. Really?!!!? Are 10 year-olds now going to have to stand in line at the DMV to get a license plate for their bike? If you have training wheels on your bike do you have to have a learner's permit? What's next: targeting big wheels, tricycles and skate boards?
DenDekker's bills have been referred to committee. We're guessing they'll be parked there for some time, perhaps permanently.
[via Gothamist]
Hi there. Comments have been closed for this item. Still have something to say? Contact us.