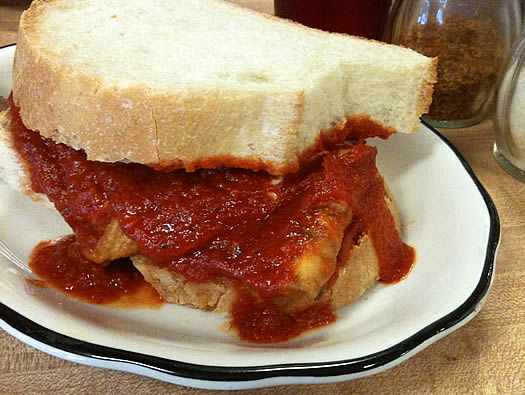 By Daniel B
This is not a sandwich.
Let's be clear, the entire purpose of a sandwich is to be held in the hand so that it can be eaten with relative ease and tidiness. Please allow me to assure you that any attempt to do this with the eggplant sandwich at Peter Pause is a recipe for disaster.
This sandwich requires a knife and fork. It may also require a fair bit of advanced planning, because while Peter Pause is for everybody, they don't make it easy for people outside of Schenectady to enjoy this regional treasure.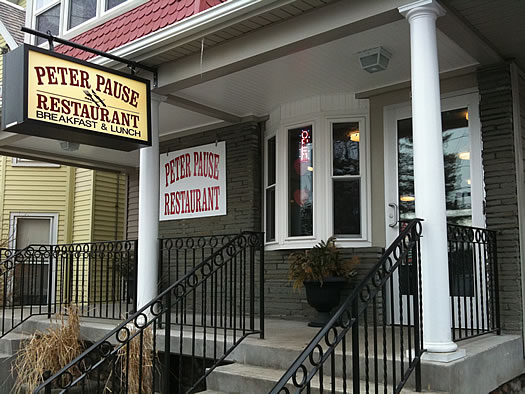 And it is indeed for everybody. On a recent visit to this Italian-American diner, there was a serviceman in fatigues, little old ladies dressed for lunch, college students bedecked in sweats, work colleagues wearing their business casual best, and even someone in a suit. There were old-timers sitting at the counter, families gathered around tables, and lovers holding hands.
But it's not easy to enjoy, because Peter Pause is only open for breakfast and lunch between 6 am and 2 pm weekdays. Saturday and Sunday they're closed.
So, should you happen to find yourself in the vicinity of Union College around lunch on a weekday, remember this place and go. Just go as you are, regardless of what you are wearing, and bring your appetite.
Why do they make it so hard?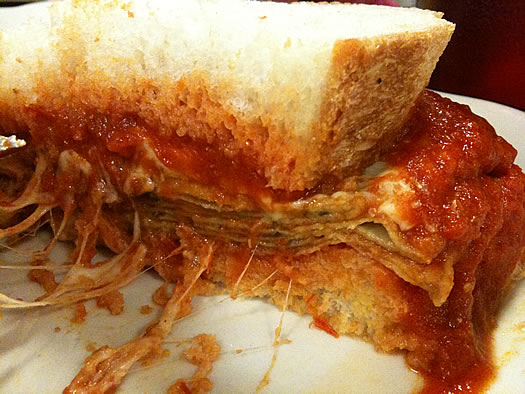 Well, it probably has something to do with the fact that every morning they make their own Italian bread. Mind you, there is good bread in Schenectady. Perreca's is just down the street. But the bread here is a real point of pride for the owner, and for good reason. It's this bread with its sturdy golden crust, and tender yeasty crumb, that creates the foundation for their eggplant sandwich.
The sauce comes next, which is a deep, smooth red. It leaves the impression of savory stewed tomatoes. There are not a lot of herbs and spices that get in the way. But most importantly it soaks into their soft bread and cascades onto the plate.
Several layers of fried eggplant are piled on top. The eggplant is sliced impossibly thin and covered with an equally thin, almost crepe-like batter. Together they are cooked until golden, rich and tender. It's a substantial filling that is further enriched with some mozzarella cheese that yields under another ladle of sauce.
The whole thing is topped with one final generous slice of their house made bread, and brought to the table with a serrated steak knife.
If you can make it there while they are open, this very special sandwich can be had for a paltry $5.75.
Yes, it's more expensive than the similar meatball sandwich, which is only a remarkable $5. But it's well worth it. If you are going with a friend, you may want to consider getting both sandwiches and splitting them. When the waitress was asked if the meatballs were made in house, she looked insulted by even the merest insinuation that they weren't.
This is a great place. I hope you find a way to get there.
Daniel B is the proprietor of the Fussy Little Blog.
Find It
Peter Pause Restaurant
535 Nott Street
Schenectady, NY 12308
Hi there. Comments have been closed for this item. Still have something to say? Contact us.