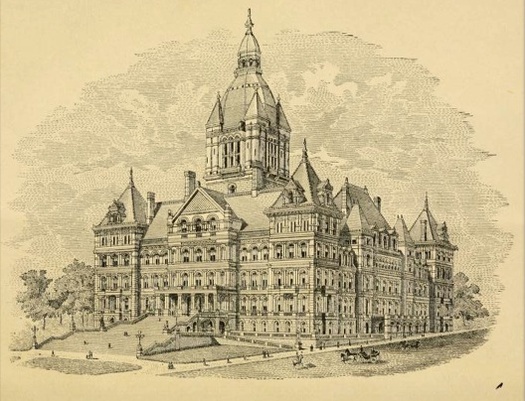 By Akum Norder
Spotted in an 1889 brochure on the state Capitol's ongoing construction: This plan that included a central tower. The original plans called for a dome; Isaac Perry, who supervised the final phase of the construction, suggested the tower seen here after structural problems made the dome impossible.
The Capitol, which took 32 years to build, endured multiple changes of architects -- and architectural styles. As the book Albany Architecture notes, "The Great Pyramid at Giza [was] constructed faster and the nation's Capitol built at half the cost." In 1899, having already taken up more time and more money than anyone had thought possible, the Capitol was declared finished.
So no tower.
It's kind of nice, though.
Hi there. Comments have been closed for this item. Still have something to say? Contact us.