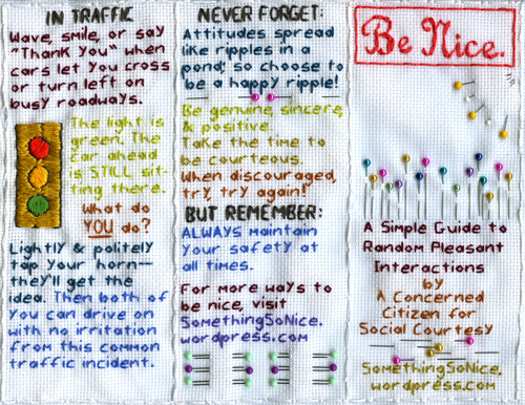 By Liz Clancy Lerner
Jen Hunold's a firm believer that you get back what you put out. So much so, in fact, that she created Be Nice. -- a project about basic social courtesies.
Jen's a visual artist who has an MFA from UAlbany. She's used embroidery to create brochures and post-cards that you can download and hand out to kindly remind people that smiles brighten bad days.
It was one of those frustrating bad days that prompted the idea for Be Nice.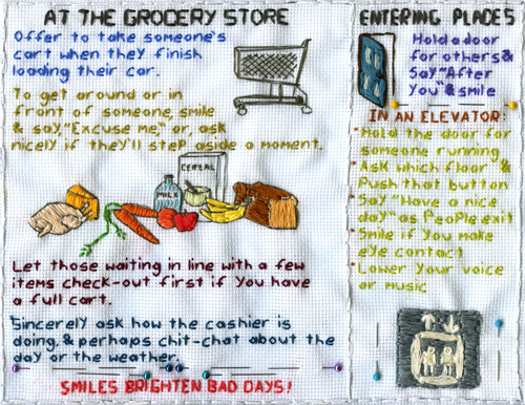 One day in 2006 Jen was trying to give away movie passes that she couldn't use. She says nothing worked as she smiled and (non-aggressively) approached people on the UAlbany campus, offering them the tickets. After a while she was frustrated and yelled, "What the f*&% is wrong with people!?"
According to Jen, she was ashamed of her outburst, and vowed to make some changes.
She noticed the "pleases" and "thank yous" that were common in the small Iowa town she grew up in were missing from her daily life. She decided she was going to do two things: be friendly and courteous, and become more aware and appreciative when others were friendly and courteous with her.
The Be Nice. project started to evolve from there.
New York
Jen says moving from Iowa to New York was an adjustment.
"When I first moved here I was completely bewildered. Some people move to a new place and decide to hate it because it's not like home. It wasn't like that for me, I just had a hard time adjusting."
She explained how little encounters affected her. In Iowa she would have conversations with grocery store clerks or receive a helping hand in the grocery store when she couldn't find something -- she said it's not that such niceties haven't happened here, it's just that they don't happen as often.
She's learned that here, in general, she has to give space to people and reach out.
The medium is part of the message
Jen presented her embroidered niceties as part of an art critique for her MFA at UAlbany. The normally quiet and sometimes awkward world of art critiques was abuzz with chatter that day. People were trying to figure out if she was being sarcastic or ironic. One person even called her a "passive-aggressive fascist."
But she was sincere, and she made it known. "I was aware people might be angry, or that they might love it -- it didn't change my motivation."
Jen says there are a few reasons she chose to use embroidery as a medium. First, she says, computer-generated text on a brochure is so common -- it doesn't catch the eye like embroidery does. She also says embroidery conveys the care and meaning she assigns to what she is saying since "it takes 5 or 6 stitches to make an 'e,' for example." This way it's a "subconscious indicator of the value of the message" -- though it is a 'throwaway' object, the labor involved gives it more value.
She adds that the history of embroidering is significant. "Women used to embroider as a way of showing their skills as a seamstress. They used them as embellishments on domestic objects like linens and dish towels." She mentions the traditional framed "Home Sweet Home" that adorned many walls. "The quaint idea of embroidery and its association with the idealization of the past is an attractive concept."
Too nice?
Some people perceive weakness in kindness. Jen's opinion? Nope, not at all. "Unless," she says, "you are someone's doormat, in which case you should seek help to avoid being a people-pleaser."
So, is it possible to be too nice? "The best rule," says Jen, "is to be nice to yourself first. Then, be nice to others." And sometimes, she says, "It's appropriate to be assertive. You can do it in a way that's perfectly civil."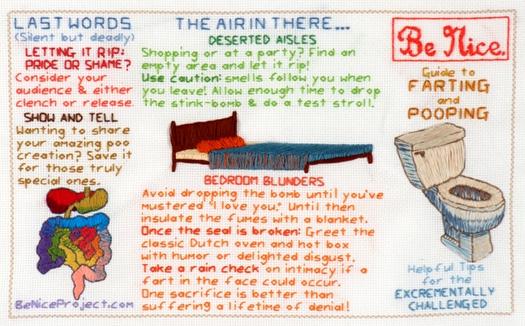 Originally Jen was paying for the Be Nice. brochures herself, but her most recent pamphlet had a little help from Kickstarter. She's now looking for Kickstarter funding for her next project The Be Nice. Guide to Farting and Pooping.
This post has been updated to correct the location of the movie ticket story. We mixed it up in editing. Sorry about that.
(Thanks to Dimitrios for first passing along the Be Nice. brochure to us!)
All images courtesy of Jen Hunold.
Hi there. Comments have been closed for this item. Still have something to say? Contact us.