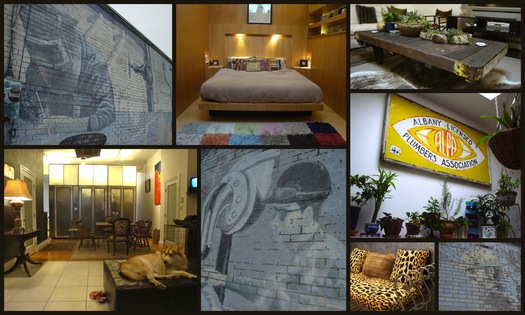 By Akum Norder
It's an understatement to say that Will Vosecek has a vision for real estate. He sees a house through the lens of what it could become, with an eye for how to use a space to its best advantage.
As a realtor with Keller Williams in Delaware Plaza, he tries to bring that eye to helping clients find a space that fits their lives. And for his own residence? He turned a run-down Plumbers' Association hall into one of Albany's coolest homes.
The Outside
The building is the former home of the Albany Licensed Plumbers Association, which used the building for meetings and training. But it'd be just another brick street front, if not for the mural.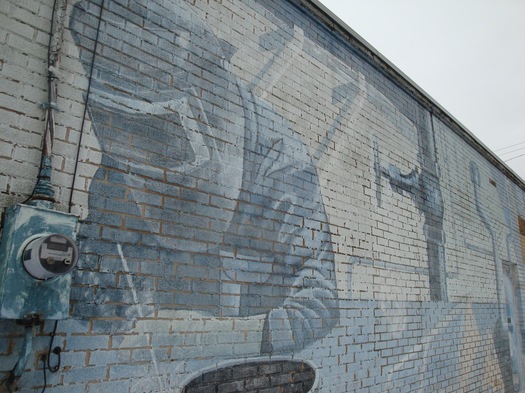 The slightly surreal scene of welders, hardhats, pipes and '70s-era mustaches -- all in serene shades of blue -- is an Ontario Street landmark. The scene was painted in 1980, part of a public program under which the city, using federal money, hired "artists, recovering heroin addicts, local teenagers and others," according to the Times Union, to create murals. About 60 of these murals were completed, most of them in public interiors, but some on the outside of privately owned buildings.
Under the program, the owners agreed to maintain the outdoor murals for a decade. This one's past 30 now, and time and graffiti have done a lot to ravage it. But the welder should loom large on Ontario Street for a yet a while longer.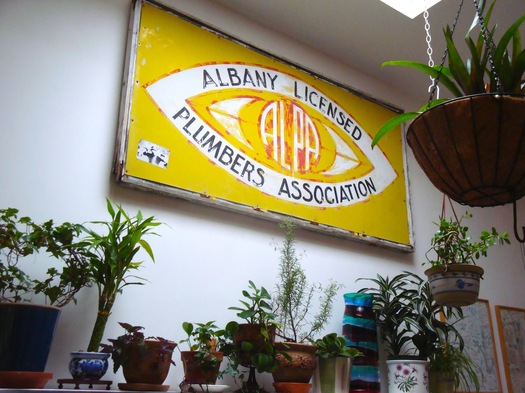 The Inside
Will encountered the plumbing building about five years ago, when its real estate listing came across his desk at Keller Williams. He went down to check it out.
The space -- basically one large room -- was a wreck. "It was raw," Will said. "It was gross. Pecan plastic paneling and a drop ceiling." And yet, he said: "As soon as I walked in that door, I knew it." This was home -- or would be.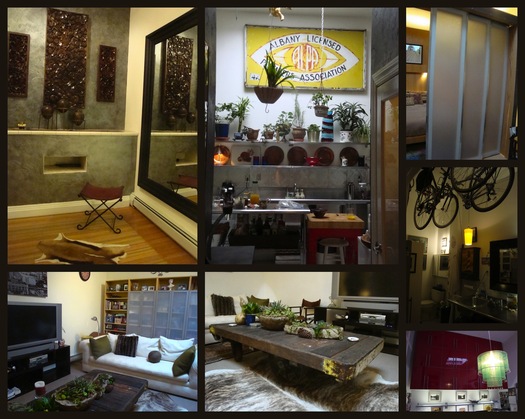 Getting it there took a lot of work. He had the ceiling insulated and drywalled. He put in a few walls -- not many, just what was needed to create a bathroom and a kitchen. He put in a floor and a whole lot of lighting to supplement the existing skylights.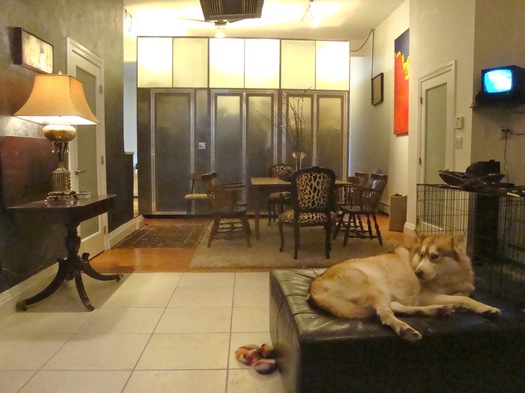 "It's not a large space," Will quips; "it's a big space." And seeing his house, his statement makes sense. It takes a few tricks to make a small house not feel small. Will knows every one of them.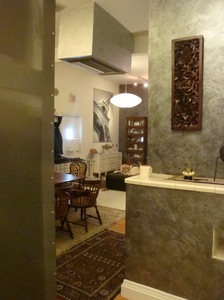 The large room is divided into separate spaces, giving it a more personal scale. There's a living room, a dining room, a foyer, even space that serves no function other than looking good.
Lots of storage gets the clutter out of sight. Cabinets stack all the way to the ceiling. Bicycles hang in the bathroom.
And then there's the Z-Box.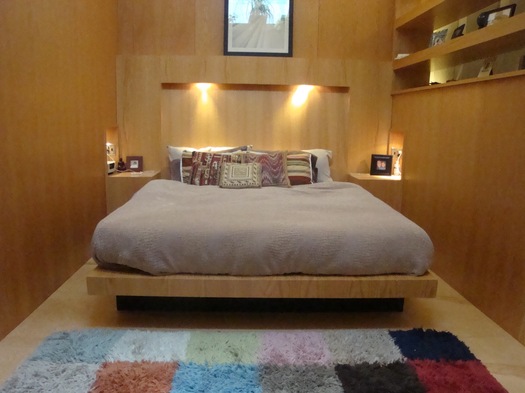 Conceived by architect Dan Hisel as "furnecture," a Z-Box is a free-standing room that puts a private bedroom within the open-plan home. The bedroom, all industrial metal outside, has multi-panel doors that slide back completely into pockets, revealing a warm wood interior with a built-in bed, nightstands and shelves. The back and sides of the Z-Box are lined with closets.
Will's Z-Box bedroom is on wheels. It takes 5 or 6 people to push it, he says, but it allows him to customize the house -- it can be moved to accommodate a large party or change the shape of his living room.
Echoing the nearby bedroom, Will's coffee table, too, is on wheels: It's an antique wooden factory dolly that can roll back and forth between the two white couches. His home's depth of texture and design makes me wonder if Will should be decorating houses instead of selling them. Inside and out, the space plays with contrasts: fading plumbers with vibrant living spaces, metal with textiles, industrial with organic, intimacy with openness. The thoughtfulness of the décor helps create a big home out of a small space.
The one constant: The element of the unexpected. And in that sense, the interior of Will's home matches the plumbing mural perfectly.
Find It
The Plumbing Hall
326 Ontario St.
Albany, NY 12208
Hi there. Comments have been closed for this item. Still have something to say? Contact us.