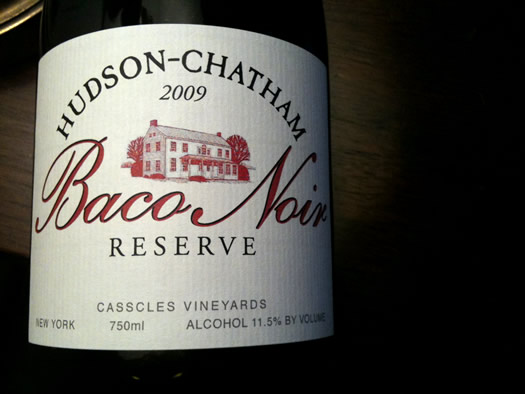 By Daniel B
Clearly there is something deeply flawed with the people involved with the Hudson-Chatham winery. Not only because they're making wine from grapes grown just an hour outside of Albany in the heart of apple country -- but they are making wines nobody has ever heard of.
Whatever they are afflicted with must be contagious, because I think that's a great idea.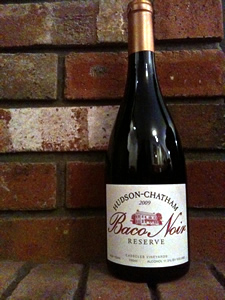 All of those famous grapes grown in France, Italy, Australia, Argentina and California are the ones most people seek out. They are the names you know by heart: Cabernet Sauvignon, Chardonnay, Sangiovese, Shiraz, Malbec, and Zinfandel. It turns out they don't fare too well up here in our cooler climate.
One of the varietals that does grow well in the region is Baco Noir.
The grapes in this bottle come from winemaker Steve Casscles' home vineyard in Athens. They are hand picked, hand pressed, and aged in French oak barrels. Three lots are produced and the two that will work best together are blended into this reserve bottling. A whopping 70 cases are made. Kendall-Jackson probably spills more wine than Hudson-Chatham produces.
You can taste it for yourself at the winery in Ghent. Or you could belly up to their table at the Schenectady Greenmarket and try several of their wines in little paper cups.
In wine circles there is a fancy and difficult to pronounce French word: Terroir. What the word implies is that every wine producing region has its own specific taste.
So what does this region taste like?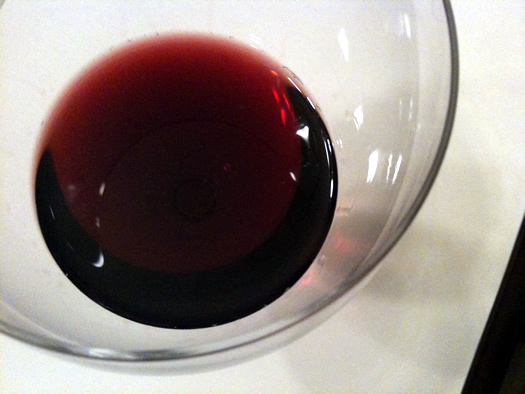 Using the Baco Noir Reserve as a guide, we are fruity, tart and restrained. Although Carlo De Vito, owner of the Hudson-Chatham Winery and author of East Coast Wineries, would say the larger character of our regional wines are defined by being soft and approachable.
The Hudson-Chatham Winery's Baco Noir Reserve is a clear and bright garnet. To me it smells of tart red fruit, and offers the impression of strawberries and tart cherries. I also get a little bit of sweet barnyard hay. On the tongue it is less fruity, but it's filled with bright acidity and enough tannin to give it some structure. The finish leaves me with a lingering notion of cranberries.
This wine would go well with something that was rich and did not have a lot of competing flavors, like a simple roast chicken, or bacon wrapped pork loin.
Hudson-Chatham produces many other wines from fruit grown around the state, but their Seyval Blanc is also locally grown. Their wines range in price from $12 to $24 a bottle. If you want to bring back a bottle of the Baco Noir Reserve it will set you back $20.50.
Now get to the winery and start sniffing and sipping.
Daniel B. is the proprietor of the Fussy Little Blog.
Find It
Hudson-Chatham Winery
1900 New York 66
Ghent, NY 12075
Hi there. Comments have been closed for this item. Still have something to say? Contact us.