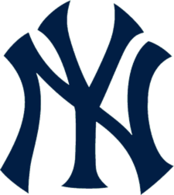 A Siena poll out Tuesday reports the Yankees are New York State's favorite sports team. Fifty-six percent of respondents said the Bronx Bombers are their first, second, or third favorite team (30 percent overall said the Yanks are their #1 favorite).
Perhaps not surprising then that Derek Jeter topped the list for "single greatest athlete of all time that played for a New York team or that you associate with sports in New York." Fourteen percent of people named Jeter when asked that question. Babe Ruth was second at 11 percent. No other athlete registered above 5 percent. The two demographic groups with the highest number of people naming Jeter: women and Latinos, both at 17 percent.
A few more bits...
Are you a sports fan? yes: 59 percent (76 percent of men, 43 percent of women) | no: 41 percent
Favorite sport: football (23 percent -- 27 percent upstate), baseball (22 percent), basketball (19 percent). By the way: soccer is more popular in New York than NASCAR.
The Knicks: A similar Siena poll last year reported that the Knicks were basically no one's favorite team. This year? The Knicks ranked #3 among most single most favored teams. All that money for Carmello and Amar'e is paying off.
On MMA: When asked whether they supported or opposed legalizing mixed martial arts in New York State, 41 percent said they were opposed. 39 percent said they supported MMA legalization. And 19 percent said they didn't know enough about it.
Instant replay in baseball: 54 percent support | 31 percent oppose.
NFL labor situation: 58 percent of people said they supported in the players in the ongoing NFL labor negotiations. 21 percent said they side with the owners. And 100 percent said to wake them when/if the season ever starts. (OK, we made up that last bit.)
Hi there. Comments have been closed for this item. Still have something to say? Contact us.