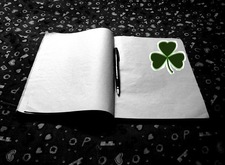 Okay, we know -- as a form of poetry, the limerick appears to be only tangentially connected to Ireland. But we're presenting it here as a way to get into the spirit of St. Patrick's Day without the need for rioting. And you people are just so clever, we know you'll come up with something great.
Our limerick contest will be judged by Daniel Nester. He's a poet himself -- and we have a feeling he's enjoyed a limerick or two. (Did they ever involve a small island off the coast of Massachusetts? We wouldn't rule it out.)
And yes, there shall be a prize. How's a $20 gift certificate to the Ginger Man strike you?
Rules -- and a few sample limericks -- after the jump.
Here are the rules:
Your poem must follow the rhythm and rhyming scheme of a limerick. Here's one of many websites that presents some writing guidelines.
The limerick must have a local angle. The state budget? Jimmer Fredette? Jerry Jennings' mysterious tan? Amaze us.
It's true that limericks often veer to the naughty. And that's fine. Just keep it, you know, suitable for work.
Do not post your limerick here as a comment! Instead, email it to editors (at) alloveralbany dot com, with "limerick" in the subject line. In your email, include your name as you'd like it posted. We'll print poems -- and name a winner -- on Thursday.
You may enter as many limericks as you want.
Entries must be received by midnight Wednesday.
Here are a couple of limericks to get you going. They'll make it pretty obvious that we're not poets -- but hopefully they'll inspire you to write a better one.
One more thing -- there's no shame in using a rhyming dictionary.
A few limericks to get you started
Andy and Sandra Lee were ... befriending
though no marital plans were impending
But some cried "It's a sin!"
"Should the church let him in?"
Most of us saved our rage for state spending
...........
If you wanna get drunk for St. Pat's
We usually tolerate that
But to exit the bars
And smash windows on cars?
You know what? You're a bunch of dingbats.
Hi there. Comments have been closed for this item. Still have something to say? Contact us.