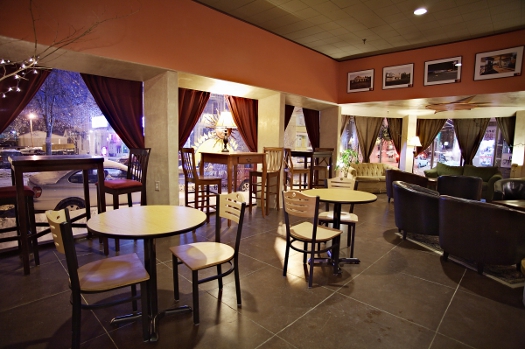 By Bennett Campbell
What do a car dealership, a print shop and a stained glass studio have in common? All of them used to be in the quirky building on the corner of Quail and Elberon, now home to the Sunspot Cafe. And like the building, with its fishbowl-ish semicircle jutting out, the Sunspot is not just another coffee shop.
On my first visit, Tom Genovese, the owner, was out fetching basil for the kitchen. A partially disassembled espresso machine greeted me, all tubes and wires, giving me a better appreciation for modern coffee technology. It was one day before the opening.
Genovese showed up within minutes, basil in tow, with a firm handshake and signature huge grin. Earlier, he'd been to the hardware store to source parts for the espresso machine and was working on it himself. In the face of eleventh-hour trouble, he seemed indefatigable, ready to do whatever needed to be done to open shop. His core team -- manager Kasey Kohler and cook Alex Burger -- shared the same sense of tense anticipation. I had a chance to talk to all three and find out that each one has a far-reaching vision of what Sunspot can become.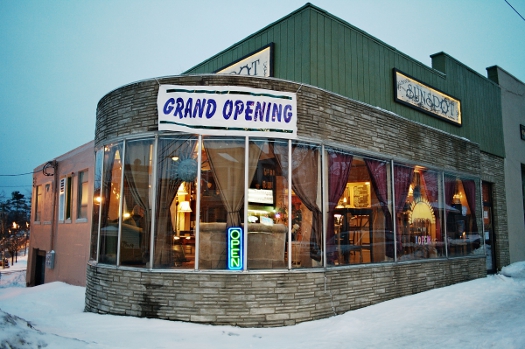 First, the building. When you see it you'll immediately notice the bump-out pointing toward Elberon Place. This isn't just some avant-garde architecture; the building was originally a car dealership and that was the showroom. The one-car showroom. Next it held printing presses, which Genovese said "destroyed the terrazzo floor," and most recently it belonged to Chapman's Stained Glass, which still operates out of the old garage. Genovese not only converted the space into a cafe but extensively renovated it, deeply recessing the windows facing Quail and most notably installing a see-through fireplace, the first thing you'll notice when walking in.
He didn't just renovate for looks, though. Genovese is an engineer interested in green technologies. "My home is kind of a testbed of energy-efficient ideas, so Sunspot is actually intended to be an example of integrating renewable technologies into a business," he said. Heat is provided by an energy-efficient radiant system, and the plan is to install solar panels in the near future to power the outdoor signs. In fact, this is where the name Sunspot comes from. "We'd like Sunspot to be a place where, if the power goes out, we're still able to operate," he told me, "though that's way down the road."
Genovese is also local to the area -- he discovered the building while walking his dogs to Washington Park -- so he has a stake in making Sunspot a positive example in the neighborhood.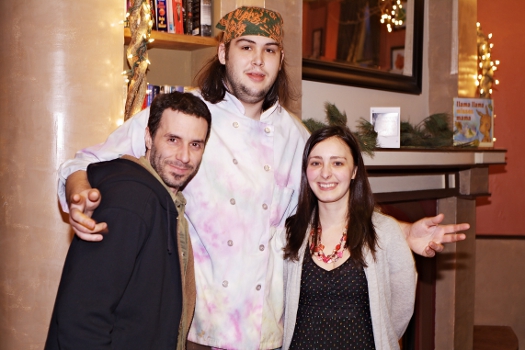 Genovese, Burger and Kohler.
This is where Kohler comes in. She's a petite brunette but she seems like she'd make an effective bouncer if it came to that. "We're aiming for the college kids who want to study, have a place to relax, meet with their friends," she said. "We don't want to be the place where they go to be crazy and loud."
Kohler is also interested in getting local artists some space on the walls, and some photos and paintings are already hung. She wants to see Sunspot as a place that offers a different environment in many ways, from exposure for emerging local artists to casual board game nights and classic movie screenings. Kohler also stresses that the menu reflects this with light, healthy (but not health-food) choices. And this is where we meet Alex Burger.
Burger is Sunspot's most identifiable personality. He's a towering six-foot-something with long, dark hair who might be more at home on the professional wrestling circuit if it weren't for his gentle looks and calm demeanor. Most importantly, he has a strong vision for the Sunspot as a true cafe, with not only an array of caffeinated beverages but also a solid, well designed menu. One notable fact is that the Sunspot has a full kitchen -- except for a fryer. You won't get fries or mozzarella sticks here. Burger is trying to bring a health-conscious, eclectic menu to the area, one that's as fresh and local as possible.
Let's get the obvious pun out of the way: his name is Burger. And, funnily enough, he makes a pretty good one - but not out of beef. Burger has concocted his own in-house corn and black bean veggie burger as a staple of the menu. No frozen soy pucks shipped from halfway across the country here; these are made by hand. Did I get a chance to try one? Well, I won't say I was bribed, but it's hard not to like this veggie patty.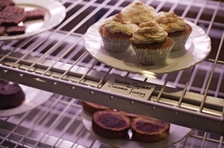 Burger has designed the menu from scratch, and wants to source as many ingredients locally, from farmers markets and local artisans, as possible. If there's any theme, it's Mediterranean; he considers his signature dishes to be the orzo salad and caprese salad, and really wants people to try the corn and black bean burger and chicken salad. He sums up his ideas on sandwiches, saying, "We want people to come in, smell fresh bread and get a sandwich on a nice piece of bread instead of a roll from Sysco or the grocery store." Burger wants to incorporate as many local and organic ingredients as possible. The menu reflects the ideals of all three stakeholders: It's fresh and flavorful, reflects sustainable food-sourcing practices and appeals to a slightly more serious, studious crowd.
Overall, understanding where each of these core members comes from signifies the direction in which Sunspot is likely to go. Genovese, Kohler and Burger all seem to have the clarity and optimism that Albany needs, and it will be fascinating to see what happens next.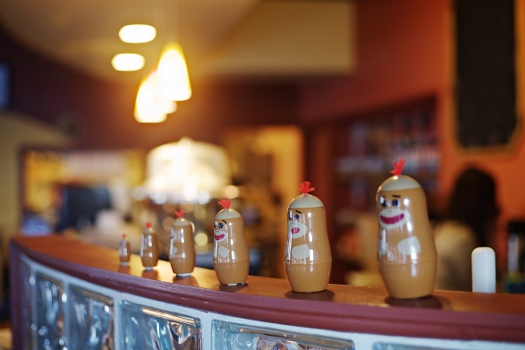 Hours are 8 a.m. To 11 p.m. Sunday-Thursday, and 8 a.m. to midnight Friday and Saturday.
Oh, also, the espresso machine is fixed.
Find It
Sunspot Cafe
212 Quail St.
Albany, NY 12203
Say Something!
We'd really like you to take part in the conversation here at All Over Albany. But we do have a few rules here. Don't worry, they're easy. The first: be kind. The second: treat everyone else with the same respect you'd like to see in return. Cool? Great, post away. Comments are moderated so it might take a little while for your comment to show up. Thanks for being patient.