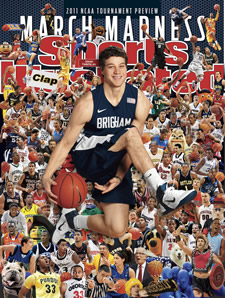 Jimmer Fredette -- Glens Falls native, a leading candidate player of the year in college basketball, folk hero -- plays in the NCAA tournament tonight. His #3 seeded BYU team takes on #14 seed Wofford at 7:15 pm on CBS. Update: BYU won 74-66 to advance.
Here are 28.5 facts about Jimmer -- one for each of the 28.5 points per game he's averaged this year. (And we're not even counting that he was on the cover of Sports Illustrated this week.)
1. Jimmer's full name is "James Taft Fredette."
2. His mom has called him Jimmer from birth because there are a lot of James and Jims in their family -- and a friend from her childhood had a kid brother named Jimmer.
3. Jimmer's older sister told their mom the name Jimmer was "dumb."
4. Jimmer has a brother named T.J. who's an aspiring rapper.
5. Jimmer could hit a three-point shot when he was five years old.
6. His father says when Jimmer was a kid, "There was no off-limits dribbling in the house."
7. Fredette played for the Albany City Rocks, the same local AAU team as Talor Battle (playing in the tournament for Penn State) and Mark Lyons (playing in the tournament for Xavier).
8. Before joining the Rocks, he hung 51 points on them as a "a little fat kid" 8th grader.
9. He's the all-time leading scorer at Glens Falls High School.
10. A former schoolmate at GFHS described him as "one of the nicest kids in the school."
11. While Jimmer was in high school, he and T.J. played pick-up games with prison inmates at the Mount McGregor Correctional Facility in Wilton.
12. The only two schools to seriously recruit Jimmer were BYU and Siena. (Jimmer was a Syracuse fan, but the Orange did not recruit him.)
13. One of the factors that led Jimmer to BYU: he's a member of the Morman church. His mom is Catholic and his dad converted to the LDS church at 18 -- they gave Jimmer and his siblings the choice of which faith to follow.
14. Jimmer says he doesn't drink, doesn't smoke and doesn't have sex -- all prohibited by the BYU honor code (a teammate was suspended for the rest of this season for violating the honor code).
15. He averaged just 7 points a game as a freshman at BYU.
16. This season he became the all-time leading scorer at BYU, surpassing NBA-notable Danny Ainge.
17. Jimmer led the nation in scoring this season at 28.5 points per game.
18. His season-high single game scoring total is 52 -- which he put up against New Mexico in his conference tournament last week. He took more shots -- 37 -- than the whole rest of his team combined.
19. He also had games of 47, 43 and 42 this year.
20. After the 43 point game against San Diego State in January, Kevin Durant -- the NBA's leading scorer -- tweeted: "Jimmer Fredette is the best scorer in the world!!"
21. Jimmer has hit so many long distance shots this year that announcers in other games have started calling shots "Jimmer-like."
22. His lowest point total of the season was 13, against Creighton in December. He shot just 5 of 15 from the field, including 1 of 5 from three point range.
23. When tickets went on sale for BYU's game against Vermont in Glens Falls this year, 300 people lined up at the box office before it opened -- some of them overnight.
24. Officials in Warren County are hoping they can use Jimmer Mania as an economic development tool.
25. There's a "contract" on the wall in Jimmer's boyhood bedroom in which he pledged in 2007 "to do the work and make the necessary sacrifices to be able to reach my ultimate goal of playing in the NBA."
26. NBA scouts are generally positive about Jimmer's chance of being a good player as a pro.
27. Jimmer's family would like him to play for the Knicks.
28. Said Barack Obama of Jimmer this week: "Unbelievable. Best scorer, obviously, in the country. Great talent." (The nation's bracketologist-in-chief still chose Florida over BYU in the second round sweet sixteen.)
28.5 Jimmer loves to drink milk.
Sources:
Philly.com: "Jimmer Fredette's unlikely path to becoming a star"
Sporting News: "5 questions for BYU star Jimmer Fredette"
Hawk Central: "Iowa's McCaffery recalls recruiting Jimmer Fredette"
NYT: "Path to B.Y.U. Stardom Began in Upstate New York"
Rivals.com: "Jimmermania has even reached the New York prison system"
ESPN: Jimmer Fredette stats
ESPN: "President Obama likes chalk for NCAAs"
USA Today: "Guard Jimmer Fredette has BYU in prime scoring position"
Sports Illustrated: "NBA scouts offer opinions on Jones, Sullinger, Irving and 53 others"
Post-Star: Jimmer Fredette coverage
Later on AOA: You want Jimmer on that wall -- you need Jimmer on that wall!
image: Sports Illustrated
Hi there. Comments have been closed for this item. Still have something to say? Contact us.