By Akum Norder
It doesn't take much to catch my eye, I guess. Just a circle among squares.
And that's exactly what's so fantastic about the Gasholder Building, 5th Ave. and Jefferson Street in South Troy.
Built in 1873, the Gasholder is a landmark from Troy's Industrial Age. Its narrow, arched windows are boarded or blocked; a long vertical crack is filled with cement. The building is topped with a broken weathervane. It's beautiful. It's imposing. But more than that, it's a round building in a rowhouse neighborhood. The kind of thing that makes Place X different from Place Y.
And for my money, you can never have too much of that.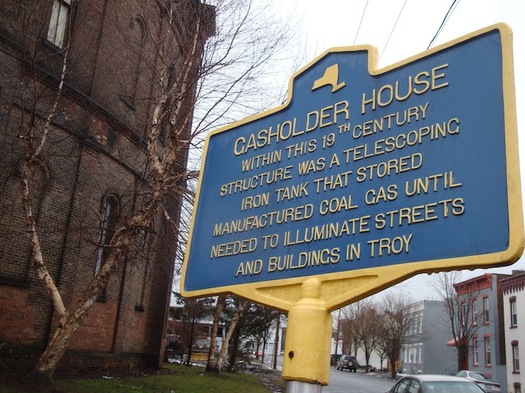 Let's start with the obvious: What was it for?
Storing manufactured coal gas, the kind used for gas lighting.
The operation was owned by the Troy Gas Light Company. Coal would be baked, and the resulting gases would be collected, purified and stored until they were needed to be piped into streetlamps and homes.
In her book Coal: A Human History, Barbara Freese talks about why gas lighting systems such as these were a significant step in our energy use history:
People got used to the idea of obtaining their fuel "from the outside" -- on demand from community-wide distribution systems -- instead of from their own privately stored fuel stocks, and local governments began to see energy distribution as a valid municipal function. People also grew comfortable with gaseous fuel, something new to human experience. In these ways, the gaslight era helped pave the way for the electricity and natural gas networks that would provide most household energy in later years.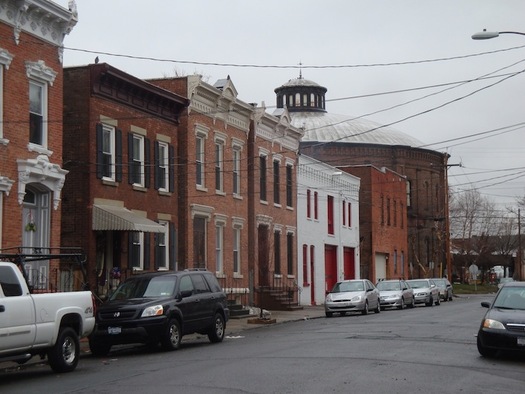 The building on Fifth Ave. didn't hold gas, technically; it held the gasholder -- an iron tank inside the brick structure. This iron tank was an interesting thing. It was made of two pieces that fit together like two sections of a telescope -- if you could imagine a telescope of which each section was 22 feet high. The holder would rise and fall with the amount of gas being stored inside. An 1872 New York Times article describes it: "As the gas is let in and the pressure increases, the huge iron cylinders rise up and the inner one slides up until the holder is fully extended." And then the weight of this iron holder is what provided the pressure for the gas in the supply pipes.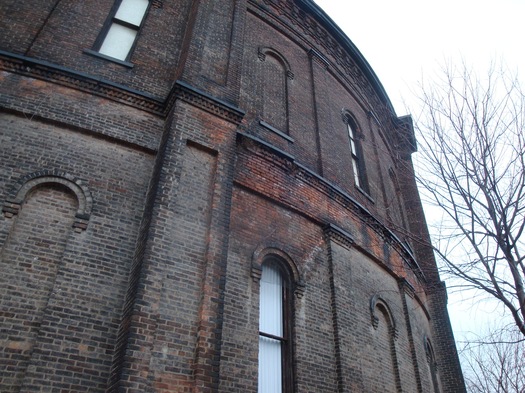 The building was described in the late 1960s as one of the country's largest remaining gasholder buildings, and "one of the few remaining examples of a type common in Northeastern urban areas." "Common" caught my eye: This unexpectedly round building in the middle of all these rectangles -- in the Northeast these were an ordinary neighborhood sight? Imagine our great-grandchildren, 100 years from now, stopping on a cross-country jaunt to photograph the nation's last remaining road salt dome. Taken out of context almost anything can have a curious beauty.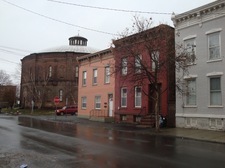 Still operational in 1912, it was probably in use until the 1920s. The gasholder itself was removed in 1930 and sold as scrap iron. In the years since then, it's been used as storage space (by a circus manager, for a while), for marching band practice and as a garage. When I visited it Wednesday, cars were parked inside it.
Most intriguing, it's been used recently as a performance space. Now that I'd like to see.
Many factors affect what we preserve and what crumbles. The Gasholder Building is one I hope we keep around.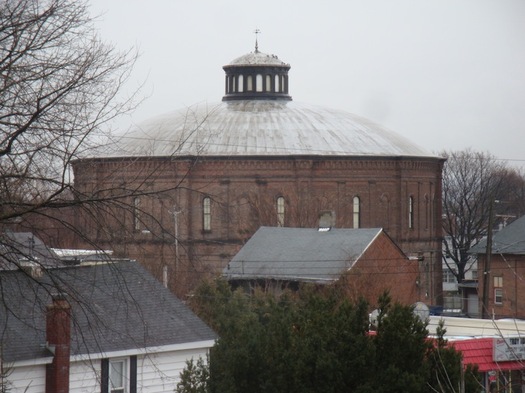 The Gasholder Building has been included in the Historic American Engineering Record, a survey of significant sites in American industrial and engineering history. My source for much of this material was the building report that accompanied that record. The Library of Congress holds some beautiful black-and-white images of the building, inside and out.
Find It
Troy Gasholder Building
5th Ave. and Jefferson Street
Troy, NY 12208
Hi there. Comments have been closed for this item. Still have something to say? Contact us.