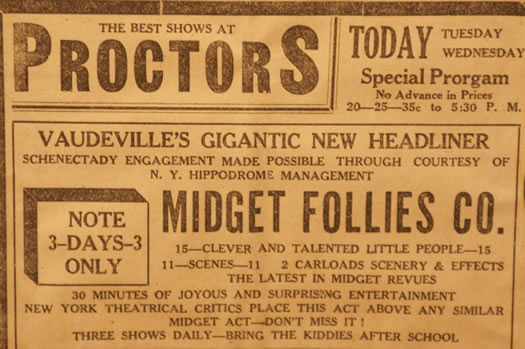 Earlier this week, Katie shared some great ads from the 1920s that she had found in the attic of her Niskayuna home. Fascinating ice cubes!
They were fun to browse through, so we figured we post another group of them...
Click on the images for a larger view.
The woman who prepares nourishing and attractive meals, does her housework without grumbling, raises a family of healthy boys and girls and still finds time to be a pal to her husband and a friend to her neighbors, is accomplishing the biggest job in the world. Homes like hers--little havens of peace and love--are the bulwark of the nation.
[Tells the story of Mrs. Riessinger who was pleased to report that she was able to gain 18 pounds after four bottles of Lydia E. Pinkam's Vegetable Compound.]
See big tubfuls washed in 3 to 7 minutes! Swee whole washings--50 pounds of clothes (dry weight) washed in one short hour!
For homes without electricity, the Maytag is available with in-built gasonline motor.
Clever and Talented Little People
The Incomparable PERMANENT WAVE
Also artistic hair bobbing, done expressly to express your personality--different and charming!
$15 guaranteed 6 mo.
Pimples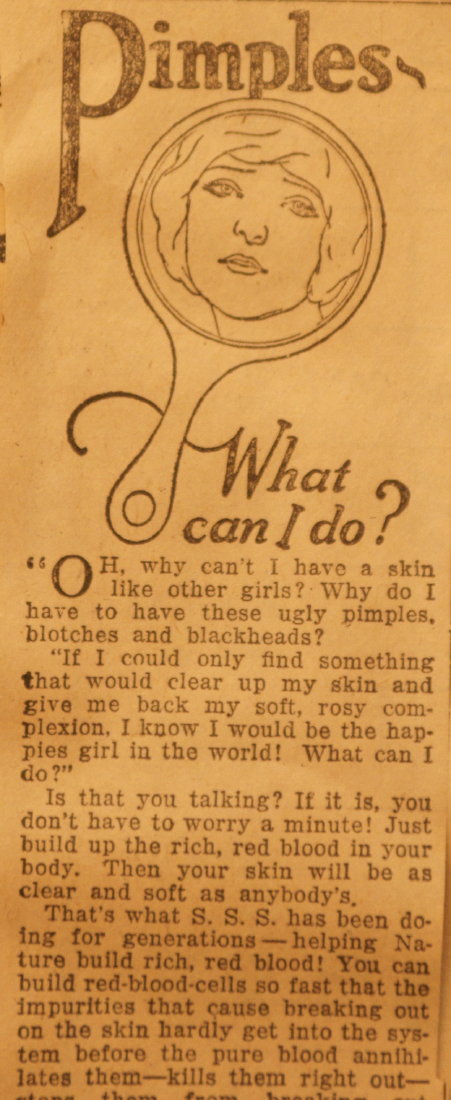 "Oh, why can't I have a skin like other girls? Why do I have to have these ugly pimples, blotches, and blockheads?"
Is that you talking? If it is you don't have to worry a minute! Just build up the rich, red blood in your body.
Healthy vigorous red blood such as S. S. S. helps Nature build, makes you healthy all over. . . . beautifies your skin--drives away pimples, blackheads, blotches, rash, boils, and eczema--gives you back your appetite--builds firm, plump flesh. . . .
There is now a wonderful showing of these popular scooters. . .
[Prices range from $2.50 to $4.39]
Help your skin to keep itself cool. Sweetheart's mild and pure, rich, thick lather in any water clears the skin of irritating accumulations, and helps to keep the pores free to carry off heat.
[$1 down, 40 weeks to pay for the price of $12.50]