By Kim M.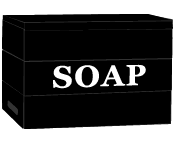 We're pulling out the AOA soap box each Sunday for people to praise, complain, suggest, joke, or make an observation about things they see going on in the Capital Region.
Since January's Troy city council meeting, one speech during the public forum has stayed on my mind.
I knew I was going to be interested in what Marcia Pascarella had to say when she said, "I want to talk about my neighborhood. My drug dealers. My welfare people. My street runners. My stabbers, my shooters. I'm talking within a 3-4 block radius."
Marcia's from North Central, has a long memory, and doesn't pull punches.
She went on to talk about a mound near her home that she doesn't own, but likes to see taken care of. She mentioned that some people who used to pitch in she hasn't seen in a long time. "It's not the idea of blaming anyone, it's the idea of caring. Every one of you should care", she said, speaking to the council members. "No matter how big it is. You should care." She talked about past police officers, who knew what was going on because they lived in the city, not outside of it.
And then Marcia really got to me, I could hear the emotion in her voice. She said, "I just can't understand. Everybody just seems to not give a damn. You're killing our city. I know you've already killed my neighborhood."
Marcia was looking for evidence that someone -- the council, the mayor, the police chief -- cared. Before she stepped away from the podium she asked, "But does anyone here care? Did anybody pay attention?" When Mayor Tutunjian addressed the council moments later, he first addressed her question, "We do care. And that's why we're here. I wish there were more people here, but by showing up and speaking, it's a sign of caring."
He was right. We were all there because we care, Marcia.
As a member of The Uptown Initiative, I've seen a lot of positive things happening in and around Troy. At that same council meeting, Elizabeth Young spoke about the Troy Downtown Collaborative competing for a $250,000 Pepsi Refresh Everything grant for business development, beautification, and other efforts. And since that meeting in January, Uri Kaufman, the developer behind the Lofts at Harmony Mills in Cohoes, has purchased the Marshall Ray building, a magnificent neglected warehouse in North Central. The city's economic development coordinator, Vic Christoper, has been busting his butt for Troy and has a real knack for capturing the beauty and potential in these buildings. I suspect that we will soon hear of redevelopment projects for other vacant buildings -- like the Marvin Neitzel building and the Oviatt Plumbing building -- that haunt his photo stream. Our neighborhood is certainly not dead, and these projects will breathe new life into our city.
But what really struck me about Marcia speech was that sentiment. I think it was exactly what people mean when they say that any "sense of community" has completely broken down. I think it's something that many urban areas are struggling with -- the consequences of suburban sprawl. Building back that sense of community is something I experience when I've joined other Uptown members for a clean 'n sweep. We should all volunteer our own time to causes we feel passionately about, even if it's just beautifying your street. Don't just complain -- think about solutions to those things that drive you insane.
So what things do you see that make you crazy? Are you doing something about it?
Kim loves Troy even more than you do.
Say Something!
We'd really like you to take part in the conversation here at All Over Albany. But we do have a few rules here. Don't worry, they're easy. The first: be kind. The second: treat everyone else with the same respect you'd like to see in return. Cool? Great, post away. Comments are moderated so it might take a little while for your comment to show up. Thanks for being patient.