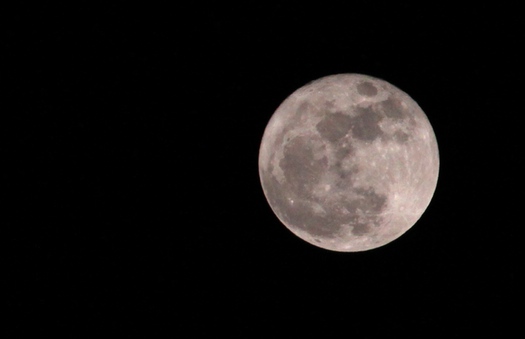 By Liz Clancy Lerner
Once a month a group meets at Moreau State Park in Saratoga County for a full moon walk around the lake. This month, though, the walk was super.
This past Saturday was a "super full moon" -- the moon was at its closest point to Earth on its elliptical orbit, and appeared about 14 percent bigger and 30 percent brighter than usual. The last time a full moon was so close was 18 years ago.
But, that's all details. The bottom line is that it looked pretty cool...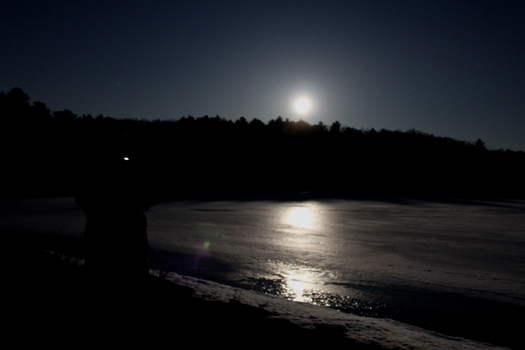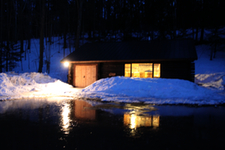 As it turns out, this past full moon also goes by two other names: a sap moon and a worm moon. You can probably guess the sap part. The worm moon refers to worms coming out of the earth due to warmer temperatures and ground thaw.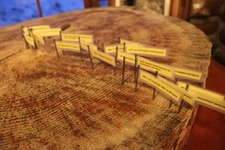 I learned this as I was standing in Moreau Lake's warming hut with about thirty other people. It's a neat log cabin with a large fireplace, long dining table and interesting educational features, like a cross-section of a tree showing the rings with important historical facts on the dates that correspond to the rings.
We got briefed on the route of our walk (to the foot bridge and back) and the conditions (snowy along the beach) and heard a little more about the wildlife around us. (The male American Woodcock shoots straight into the air and zig-zags back down to attract females.)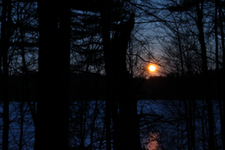 Along the trail we stopped to take some photos of the moon. It appeared at its biggest right when it came over the horizon (and could almost be mistaken for the sun at a glance).
There was certainly no need for a headlamp. Once you gave your eyes a few seconds to adjust, the moon's light provided more than enough light to get around.
When we got to the foot bridge we learned all about the beaver population at Moreau Lake. They're quite persistent animals. It sounds like this particular group of beavers sole goal is to build a dam below the footbridge; they spend hundreds of hours working on it. When that happens people can't paddle from one part of the lake to the next -- so rangers often have to break apart the dam.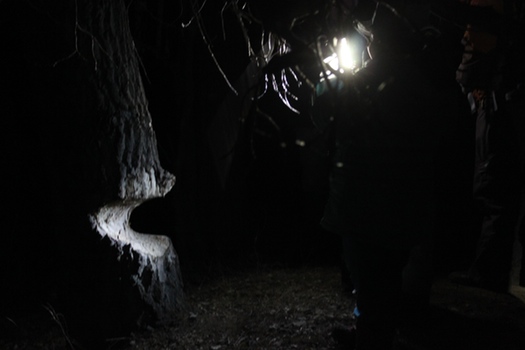 That doesn't seem to phase them, they go right back at it, biting into trees and leaving their mark.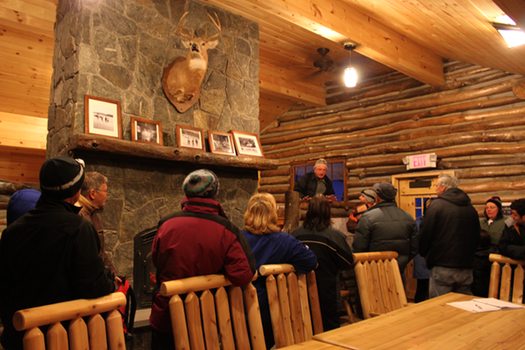 There was hot chocolate and snacks waiting for the group back at the warming hut. Adults, families and lots of naturalists made for great company. Jackie Donnelly, who writes the Saratoga Woods and Waterways blog was volunteering that night, along with 20-year resident Sam Lantz.
A big thanks goes out to park naturalist Gary Hill for leading the tour. Here's a map of the You can find a map of the Moreau Lake State Park. Info about moon walks, and other Moreau Lake events, is on the park's website.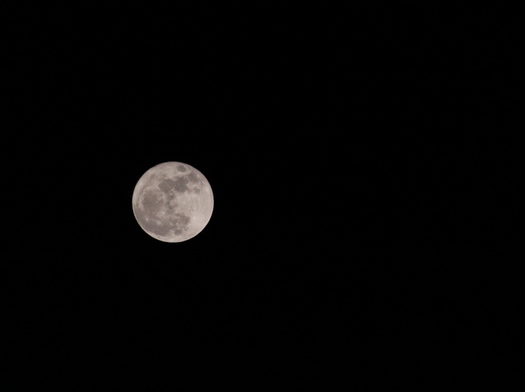 Find It
Moreau Lake State Park
605 Old Saratoga Road
Gansevoort, NY 12831
Hi there. Comments have been closed for this item. Still have something to say? Contact us.