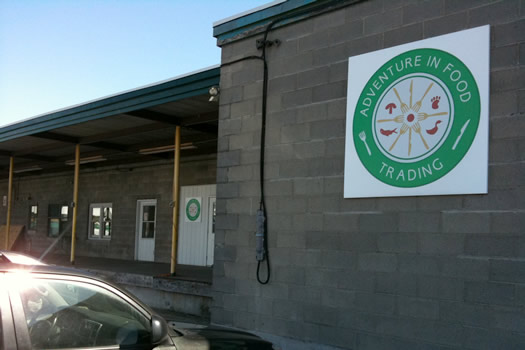 By Daniel B.
The first adventure is finding the place.
It wasn't too long ago that Adventure in Food Trading was conveniently located by the Pump Station in downtown Albany. Then you and your buddies could have a few beers, dare each other to eat something like rattlesnake, and pop next door to pick one up for dinner.
Now you have to go to Menands, where apparently Google Maps is completely useless. And while the warehouse's address is Broadway, it's not on Broadway at all. You have to navigate your way through a few roads that snake along a cluster of warehouses. But once you're there, parking is easy -- because you will likely have the place all to yourself.
For the most part Adventure in Food Trading exists to get chefs in upstate New York the specialty ingredients they desire. However, the business is open to the public, and you are very welcome to come in and shop the warehouse.
And, oh, what a warehouse.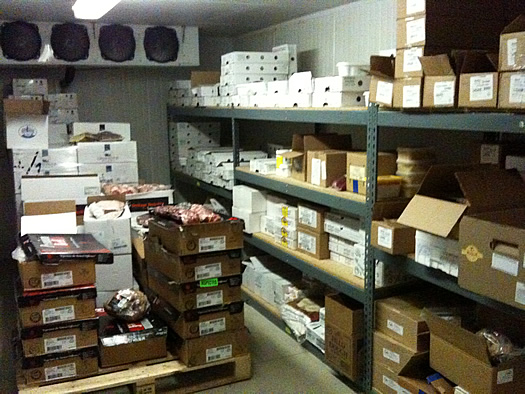 It is currently being fitted for a few more coolers, but when I visited the place it was divided into four main areas: frozen goods, refrigerated goods, canned and bottled goods, and dry goods.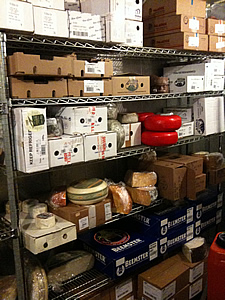 For a food lover, this place blows BJs out of the water. Sure, it may not have toilet paper, but it has large quantities of some of the most delicious things on the planet. You may not need 3 kg of Valrhona chocolate, but it's not fundamentally more ridiculous than a 3-pound bag of Jelly Belly candies. Plus, it is literally an inspiring quantity of chocolate, so much that it momentarily caused me to indulge in a few truffle making fantasies.
One day I'd love to be able to justify buying an 8-pound Berkshire pork belly or a 70-pound wheel of cave-aged gruyere. If I had access to a professional grade slicer, their speck and Hudson Valley cured and dried duck breast would be even more tempting.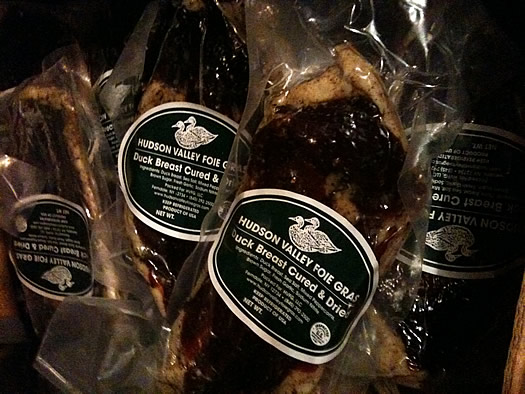 Meats
There will be some who flock to Adventure in Food Trading for their exotic meats. If you are interested in these, you should bring a heavy jacket, because you will need to brave the freezer.
I wasn't kidding about the rattlesnake.
Among the more exotic animals they sell for human consumption include antelope, caribou, kangaroo, llama and yak. To make the exotics even more accessible, you don't even need to buy whole primal cuts. A few of them, like the yak and the llama, are packaged in eight-ounce portions. Or you could walk away with a pound of python.
For your convenience, Bison testicles come in convenient one-pound packs as well.
Variety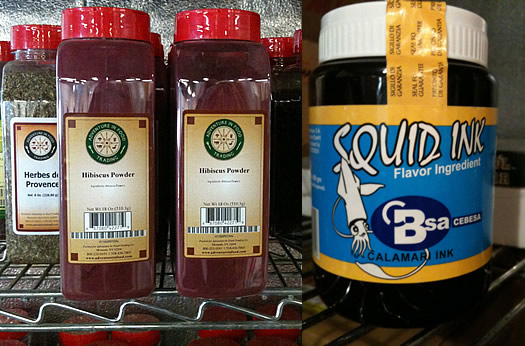 But what I found most thrilling about the place was just the staggering variety of foodstuffs.
There were palates of wood chips in three varieties (maple, hickory and mesquite), two varieties of canned truffle shavings (the more flavorful summer ones and the mustier winter ones), rabbits processed two ways (air chilled and water chilled), and two traditional balsamic vinegars in 100 ml bottles (12 year and 25 year).
On the shelves were items I've never seen before: molecular gastronomy kits, jars of squid ink, 5-pound bags of Vialone nano rice (better in risotto than arborio), hibiscus powder, bresaola from Uruguay, and 136 oz tubs of Sambal Oelek chili paste.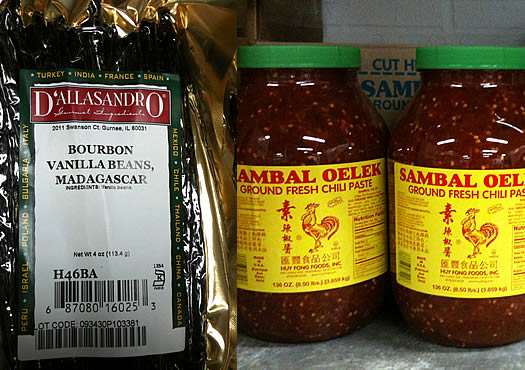 I wanted everything. I wanted two of everything. And while I spent an inordinately long time in the warehouse, I could have spent the whole day there.
The only major drawback is that nothing is labeled with prices. Luckily, the staff is very accommodating, and can tell you the price of anything you might want. If you are curious to get a sense of prices on specific items before making the trek down to the warehouse, you can peruse their entire product list online and call ahead for pricing.
Once you're there, invariably something else will grab your eye.
Daniel B. is the proprietor of the Fussy Little Blog.
Find It
Adventures in Food Trading
381 Broadway
Menands, NY 12204
As it turns out 381 Broadway is just south of the 32 and 378 interchange. The trick is that it's not on Broadway at all. From Broadway, one must turn east on East Elmwood Road, then take an immediate left on Canal Road, snaking along until it ends in a giant industrial parking lot surrounded by warehouses.
Adventure in Food Trading is in warehouse 7A. If you circle the perimeter, you can't miss it.
Hi there. Comments have been closed for this item. Still have something to say? Contact us.