By Akum Norder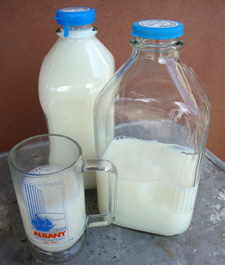 I grew up with a milk-box on my front steps, and it was an incredibly useful thing. It was my oven when I played house: The grey metal box baked pebble cakes to perfection. When the porch was my covered wagon, the box was the driver's seat.
It also held milk.
The milkman would come by in the afternoons once a week. He had a '70s mustache -- it was the '70s, after all -- and a yellow cap. If we were home when he came, we could buy chocolate milk from him, right off the truck. Barefoot in the grass, and someone drives up and brings you chocolate milk: That's the way childhood is supposed to be.
I always liked getting milk delivery. It made milk somehow more special than the other foods. It was the only one, after all, that came straight to my house.
I haven't pulled my pebble cake recipe out of the files for a long time now. But as the owner of a porch, it seemed right to me that the porch have a milk-box. The milk we have delivered is sweet and fresh and flavorful like no milk I've ever had -- including what I remember from my childhood. (New York cows, I salute you.)
It's also more expensive. We think of it as our weekly contribution to the Support A Local Farm fund. And we love that it comes in heavy reusable glass bottles -- and that we don't have to throw a plastic gallon jug into the recycling bin every week.
The Capital Region's home milk delivery options have expanded in recent years. What follows are some dairies that bring the milk from the cow to your porch -- and a little about how they do it.
King Brothers Dairy
Schuylerville
When brothers Jan King and Jeff King started delivering milk last spring, an old family business was reborn. Their grandfather and uncles delivered around Saratoga until the early 1960s. Their grandfather had processed his own milk, but when homogenization came in, the family decided not to invest in the new equipment. "They were old enough they wanted to retire," Jan says. "So they stopped the home delivery."
The King brothers are fourth-generation farmers; the farm has been in business for about 115 years. But Jan and Jeff have brought delivery into the modern age with an online ordering system.
And in addition to their milk, King Brothers will bring products from other local farms and area businesses to your door. Their website offers yogurt, beef, eggs, jam, bacon, pies and more. "We're kind of like a farmers market on wheels," Jan says. "People really enjoy the freshness, but also it's local. It's supporting a number of businesses and farms in the area."
Delivery area
Right now, King Brothers delivers from Clifton Park up to Queensbury. But when they can set up enough deliveries in points south -- Latham, Colonie, Schenectady, Albany -- they're looking to expand their territory.
Meadow Brook Farms Dairy
Clarksville
(518) 768-2451; no website
Charles Van Wie and his brother grew up in the business. Meadow Brook, started by their father, has been offering home delivery since 1926.
This is "our" milk -- what we drink at home -- and in the interest of full disclosure I'll point out that it's wonderful. It's hard to imagine going back to drinking anything else. Meadow Brook is also the only one of these three dairies to deliver in the Albany city limits at this time.
Charles is an old-school fellow who loves to tell a tale or two about the milk business. Some of which he didn't want in print. Here's one I can share:
I'm sitting in the truck and I hear these two guys talking up on the roof of a house, doing roof work or something:
"You see that milk truck down there?"
"Yeah."
"He has the best milk in" -- I don't remember exactly what he said -- "the best milk in town" or "best milk in the state."
He didn't know I was listening. I hollered up, "World! Nevermind that "state" stuff. World! Let's think big. Let's not think small."
And that, Charles says, is their philosophy: "We do everything all the time to try to make it better. We want everything perfect and we work at it every day."
Delivery area:
Albany and Troy, plus parts of Saratoga; call to ask if they're in your area.

Battenkill Valley Creamery
Salem
Battenkill started processing its own milk in 2008 and added delivery service last year. Seth McEachron, a fifth-generation dairy farmer, explains part of their milk's appeal: "Our milk can go from our cows to our bottles in less than eight hours and to our customers in less than twelve. Can't beat that freshness."
Their product was named the highest quality milk in New York state by the Cornell University Department of Food Science at last year's state fair. McEachron notes that Battenkill Valley Creamery is the first farmer/producer/bottler ever to be chosen for the award.
Battenkill also lets you add other local products to your milk delivery order, including bread, pickles and peanut butter. And -- brace yourself -- they make and deliver their own ice cream. "From our cows to your cone!" they say.
I'll drink to that. Milk mustache, here I come.
Delivery area:
Saratoga Springs and its surroundings, including parts of Malta, Ballston Spa and Wilton; they are looking to expand.
Hi there. Comments have been closed for this item. Still have something to say? Contact us.