By Akum Norder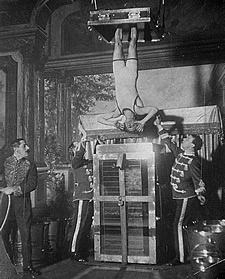 Silly us: We'd forgotten today was Harry Houdini's birthday until we saw the Google doodle.
But since it is -- The Great Houdini would be 137 today -- it seems a fitting time to mention the role an Albany performance played in the chain of events that led to his death.
Houdini's performance in Albany early in October 1926 might be called the beginning of the end for the great magician. His act included an escape from the "Water Torture Cell." It was nothing much: Only being lowered upside down into a water-filled tank with your feet locked in stocks. You know, kid stuff. (shudder)
That night, though, something went wrong.
The New York Times account of his death says a piece of equipment struck Houdini on the foot and broke it; other accounts says a sudden jerk of the stocks broke his ankle.
The Times describes what happened next:
Houdini called a physician from the audience, had his foot examined and then completed his performance. Afterward he went to a hospital and had the injured foot X-rayed.
Houdini had a fracture. But despite the pain he would not cancel his tour. On to Schenectady! And then Montreal. And it was in Montreal, on Oct. 22 1926, as he lay on his dressing-room couch and talked to some students, that one of them punched him to test his famous abs of steel.
Another student included this statement in his account of what happened:
Houdini immediately after stated that he had had no opportunity to prepare himself against the blows, as he did not think that [the student] would strike him as suddenly as he did and with such force, but that he would have been in a better position to prepare for the blows if he had risen from the couch for this purpose, but the injury to his foot prevented him from getting about rapidly.
This suggests the foot injury left Houdini in a vulnerable position, unable to prepare for the punches.
Now, folklore has it that these blows are what ruptured Houdini's appendix and killed him. But modern medicine calls that doubtful. As explained on Snopes.com:
Houdini was likely already suffering from appendicitis at the time [the student] punched him, and he may have written off his subsequent discomfort merely as residual pain caused by those blows, thereby delaying his seeking medical treatment until it was too late.
If we believe this chain of events, we go from a broken ankle in Albany to a stomach punch in Montreal to delayed treatment of appendicitis to death. Is this how it all happened? We don't know. But reading all this left us feeling a little like we should apologize for ... something ... on Albany's behalf.
image: Library of Congress via Wikipedia
Say Something!
We'd really like you to take part in the conversation here at All Over Albany. But we do have a few rules here. Don't worry, they're easy. The first: be kind. The second: treat everyone else with the same respect you'd like to see in return. Cool? Great, post away. Comments are moderated so it might take a little while for your comment to show up. Thanks for being patient.