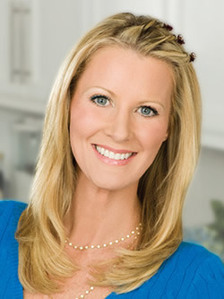 From the NY Mag cover package about Andrew Cuomo and First Lady-friend Sandra Lee:
The media in the state capital of Albany, a.k.a. the world capital of boring, bristled with excitement from the moment it became clear that Andrew Cuomo would run for governor. Not because of Cuomo so much as for the woman whose home he shares in Westchester. Eleanor Roosevelt aside, the First Ladies of New York have heretofore not merited inclusion on TMZ's stalk list. (Quick: State a single fact--anything at all--about Libby Pataki.) Sandra Lee was something entirely new: a bona fide famous person in her own right.
The speculation was partly political. With her cheery mass-market appeal, would Lee be an upstate asset, an electoral-map ringer in remote towns where Cuomo, the dark prince of a New York City-oriented political dynasty, was a less-natural sell? But mainly what galvanized the Albany crowd was her raw human star power. ... It's hard to think of another First Lady, anywhere, whose Q rating eclipses her significant other's, with the possible transatlantic exception of Carla Bruni and Nicolas Sarkozy and trans-space-time-­continuum exception of Grace Kelly and Prince Rainier. ...
Would Lee redecorate the governor's mansion? Enliven those fusty rubber-chicken dinners with festive tablescapes? There was a touching Waiting for Guffman quality to the way the glamour-starved local press corps dubbed the prospective gubernatorial couple Sandrew. ...
We seem to have been absent on the days when the media here "bristled with excitement" over Sandra Lee. There were a few moments of amusement, sure (raises hand). Siobhan's description is probably more accurate.
The article covers a lot of a familiar ground, but unlike most other pieces, Lee agreed to be interviewed. It once again makes the point that is Lee is not a regular person -- she's tougher, smarter and more resourceful than most of the rest of us (with a better organized closet). And she has a Jedi-like ability to influence people. (There's a great scene in the piece in which Lee basically owns this guy from Tyson, convincing/forcing him to triple the company's donation of chicken to New York food banks.)
Among the other interesting bits: Lee's reaction to the criticism of the infamous Kwanzaa cake.
Out back at the Executive Mansion: A good bit from the Cuomo article:
Cuomo quizzed one of Rocky's powerful aides, Alton Marshall, about the wealthy governor's success with the Legislature. "Ah, Rocky," Marshall told him. "Rocky would bring 'em over to the mansion, he'd sit around, they'd have a few bottles of wine, they'd have some cigars. He'd say, 'What do you need? How can I help you? I like you.' Oh, yeah, Rocky, he owned 'em. They loved him. He was charming." Cuomo, the ex-aide says, was inspired, believing he had the skills, if not the libations, to work the same magic. "Yeah," Marshall said, "and you know, every once in a while, you gotta take one of these guys outside and shoot him."
[via @cassiecramer]
photo: Food Network
Hi there. Comments have been closed for this item. Still have something to say? Contact us.